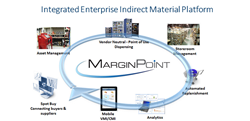 French speaking territories can now take advantage of our industry-first, cloud-based solution for the management of indirect materials from anywhere through a browser; our mobile capabilities extends this further by providing companies with unparalleled
Lake Forest, California (PRWEB) March 24, 2014
MarginPoint, a leading provider of cloud-based indirect material management solutions, today announced the launch of its French language version of MarginPoint 8. This version will allow French speaking companies to more thoroughly take advantage of the powerful features of MarginPoint 8.
"French speaking territories can now take advantage of our industry-first, cloud-based solution for the management of indirect materials from anywhere through a browser; our mobile capabilities extends this further by providing companies with unparalleled control of their indirect materials at all levels of the customer's business," says Vince Sheeran, CEO of MarginPoint. "Although companies today have implemented tight controls on their direct material spend, many have little or no control over the materials that are used or consumed to actually make that product. We developed MarginPoint 8 to address this problem—providing a complete and integrated approach that provides comprehensive visibility into the full lifecycle of indirect materials - from sourcing and procurement through staging, usage and disposal."
Built on the Microsoft Azure Cloud platform, MarginPoint 8 significantly simplifies the indirect materials management process by providing anytime, anywhere access via the Internet. There's no software to install and maintain on premise, eliminating the need to retain specific servers, install upgrades or perform frequent maintenance. MarginPoint 8 is flexible and modular, and easily integrated with an organization's existing IT solutions, no matter how varied or complex the environment, equipping customers to utilize what they want, when they want.
About MarginPoint 8
MarginPoint 8 is a comprehensive indirect materials management software solution that enables industrial companies to streamline their indirect materials processes to drive down costs and improve profitability while maintaining or improving their operational service levels. MarginPoint 8 provides visibility into all phases of indirect material management from sourcing and procurement through staging, usage and disposal.
About MarginPoint
MarginPoint is a leading provider of cloud-based indirect material management solutions for the industrial market. More than 400 industrial companies currently rely on MarginPoint solutions daily to reduce their indirect material spending and streamline their indirect material management processes. MarginPoint is uniquely focused on integrating the end-to-end indirect material lifecycle to deliver the highest possible ROI for customers. MarginPoint's SaaS delivery model enables customers to rapidly deploy the solution without any significant up-front IT investment.
MarginPoint is a privately-held company whose investors include The Argentum Group, InnoCal Venture Capital, Inverness Graham Investments and Mission Ventures. For information about the company's products and services, or how to become a MarginPoint distributor or partner, please visit the company's website at http://www.marginpoint.com or call 888-229-3685.