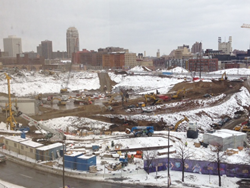 We're pleased that our demolition plan calls for more than 80 percent of the material that is being hauled away to be recycled for renewed use elsewhere.
Minneapolis, MN (PRWEB) March 19, 2014
The Minnesota Sports Facilities Authority (MSFA) announced today that a vast majority of the Hubert H. Humphrey Metrodome will be recycled as part of its ongoing demolition which is scheduled for completion next month. Concurrently, construction activities for the new Minnesota Multi-Purpose Stadium (MMPS) also are on track as excavation and foundation work proceeds as planned.
"Our project is moving forward according to plan," said Michele Kelm-Helgen, chair of the MSFA. "Demolition of the Metrodome will be substantially complete by the end of April and excavation and foundation work for the new stadium continues. We're also pleased that our demolition plan calls for more than 80 percent of the material that is being hauled away to be recycled for renewed use elsewhere."
Construction of the new Minnesota Multi-Purpose Stadium is being managed by Mortenson Construction and project associate Thor Construction. Construction on the 65,000 seat, 1.7 million square-foot facility is scheduled for completion in July 2016.
Project update:

Excavation is nearing 50% completion (400,000+ cubic yards to date of an estimated 850,000 cubic yards of material has been removed)
Almost 15% of the new stadium's drilled piers have been installed (40 of 300)
Nearly 3% of the concrete that will be used in the new stadium has been poured to date (2,500+ cubic yards to date of an estimated 100,000 cubic yards total)
Underground mechanical and electrical utility work continues
Foundational concrete elements are being formed
A third tower crane on the southeast corner of the site will be installed mid-April
More than 80% of the Metrodome will be recycled
Metrodome seats that were not sold were recycled: 120 tons (240,000 lbs) of cast iron and 75 tons (150,000 lbs) of High Density Poly Ethylene were recycled and sold to Minnesota manufacturing companies
80,000 tons of concrete will be recycled for use in other building projects
Metals are being recycled include:
o 2,500 tons of structural steel have been reclaimed and are being prepped for recycling off site; 2,000 tons of steel remain in the existing structure and will be recycled
o 25 tons of precious metals have been recycled
o 300 tons of roof cables have been recycled
# # #