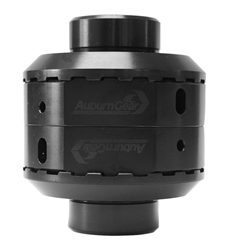 The MAX Lock Locker will certainly appeal to drag racers, off-roaders and other enthusiasts looking for instant traction and durable construction. – Jeff Winters, chief marketing officer for Summit Racing Equipment
Auburn, Ind. (PRWEB) March 24, 2014
Auburn Gear, Inc., a leading U.S.-based manufacturer of high-performance differentials, introduced its new MAX Lock Locker to the industry today. The MAX Lock Locker fits inside the original equipment's open differential case and automatically eliminates wheel slip in both two- and four-wheel-drive vehicles. The reasonably priced unit is precision engineered by Auburn to match OE case specifications and is designed to be easy for even a novice to install.
Loss of traction can occur under any number of on- and off-road conditions, and with traditional two-wheel-drive and all-wheel-drive vehicles, when a wheel breaks loose and begins to spin, it draws power and effectiveness away from the other drive wheels. Aftermarket locking differentials can solve the traction problem for the most part, but a complete case replacement is often required and this can mean higher installation costs.
The new MAX Lock Locker is economically priced and does not require OE case replacement. The MAX Lock Locker gives a vehicle exceptional tractive performance; is designed for easy installation; and provides smooth, precise, quiet operation. The black-oxide-coated unit comes in a complete kit with easy-to-follow instructions. Installing the unit is as simple as removing the OE beveled gears, side gears and pinion gears from the existing diff case, and replacing them with Auburn's dog clutches and spline couplings.
"The MAX Lock Locker will certainly appeal to drag racers, off-roaders and other enthusiasts looking for instant traction and durable construction," Jeff Winters, chief marketing officer for Summit Racing Equipment, said. "The MAX Lock is now available for ordering at Summit Racing Equipment."
Fifty-four SKUs of the new locker are scheduled for release in 2014 and will fit a broad range of popular vehicle makes and models reaching all the way back to 1955. The first-phase product release of 12 SKUs replaces a number of original Dana, Toyota, GM, Ford, Chrysler and Suzuki differential components. Compared to lockers requiring full case replacement, the MAX Lock Locker will be very competitively priced.
"The new MAX Lock Locker is a great entry point for car enthusiasts who are looking for a simple and inexpensive way to significantly beef-up the performance of their two- and four-wheel-drive vehicles," Jamie Forrest, senior product engineer for Auburn Gear, said. "As with all Auburn Gear products, drivers can be confident that our new locker is made of durable heat-treated billet steel alloy for enhanced strength and endurance."
Most four-wheel-drive and all-wheel-drive differentials track the path of least resistance, which means that one spinning wheel cannibalizes the power from the others. The MAX Lock Locker responds dynamically to tractive forces, automatically locking to deliver traction when needed and unlocking when wheel rotation must differentiate. Forrest noted that the unit optimizes traction so significantly that a two-wheel drive vehicle with a MAX Lock Locker can achieve greater traction performance than an all-wheel-drive vehicle with original equipment.
Auburn Gear engineers and manufactures a wide range of performance-enhancing and high-performance aftermarket differentials and is proud of its reputation in the industry. The company is based in the town of Auburn, Ind., located in the nation's heartland.
Auburn's MAX Lock Locker model numbers 544901, 544902, 544903, 544904, 544905, 54496, 544907, 544908, 544909, 544910, 544911 and 544912 are expected to begin shipping on or about April 7, 2014. Product information is now available and can be obtained by contacting Auburn Gear or members of its extensive North American and worldwide distributor network. A distributor locator is available at: http://www.auburngear.com/aftermarket/distributors.aspx.
Questions regarding Auburn Gear's new MAX Lock Locker may be directed to Justin R. Smith at: (260) 920-1359 or jrsmith(at)auburngear(dot)com.
To access high-resolution images of Auburn Gear's new MAX Lock Locker, please visit: http://www.auburngear.com/aftermarket.
-END-
About Auburn Gear
Auburn Gear, Inc. was organized in 1982 and has decades of gear manufacturing experience. The company serves international builders of vehicles and machinery for the automotive, truck, bus, aerial lift, agriculture, light and heavy construction, mining, forestry and marine industries. Capabilities include full line design, development, testing and manufacturing of a wide range of geared products. Facilities include development, gauge, gear and metallurgical laboratories. Production process capacities include turning, gear cutting, spline rolling, heat treat, shot peening and finished grinding.
MAX Lock Locker is a trademark of Auburn Gear, Inc.
Names of original equipment manufacturers may be trademarks of their respective organizations. References to models and product designations are for reference purposes only. Neither Auburn Gear nor its products are sponsored or endorsed by the referenced original equipment manufacturers, and there is nothing else in the use of the designation that should lead a reader to believe that there is an association between Auburn Gear and these organizations.