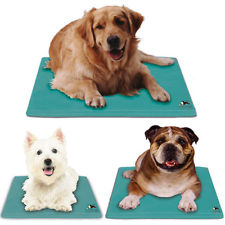 These cooling beds aren't complicated and can provide pets with years of comfort while they sleep.
Tampa, FL (PRWEB) March 20, 2014
Pet Street Mall, a leader in pet supply products, is excited to announce that it will be carrying the "Coolest" dog beds on the market. Responding to an abnormally warm summer last year with heat waves pounding the United States, Pet Street Mall has extended its catalog by carrying premiere cooling dog beds that help prevent dehydration and overheating.
Operating within the United States, SoothSoft makes the simplest and most effective beds to cool off overheated canines. Using a cozy and plush material, SoothSoft's Canine Cooler beds are simply put on a hard surface and filled with water to constantly keep your dog's internal temperature at a safe 101 degrees. Unlike other dog cooling beds, the Canine Cooler uses water inside the mat to chill the surface instead of gels or electric fans. In the past, cooling dog beds ran the risks of exposing toxic gels or frayed electric wires to pets, but there are zero-risks associated with the Canine Cooler dog beds.
Composed of tough, leak-proof material, the Canine Cooler beds are a must for pet owners who live in warmer climates. The beds require no maintenance or special assembly; pet owners just fill the bladder with water and place the Canine Cooler in a shaded area. The bed works by pulling heat away from your pet's body, which should keep your hot dog wagging its tail all through the summer.
"Many people have asked if these Canine Cooler beds actually work," said a spokesman for Pet Street Mall. "The answer is 'Yes!' We're excited to carry these beds. They aren't complicated and can provide pets with years of comfort while they sleep."
In addition to keeping dogs comfortable in the summer, SoothSoft boasts that its new beds are easily portable and can be used to treat a variety of ailments for aging dogs. Canine Coolers have proven to be useful tools in helping dogs with hip and elbow dysplasia, Cushing's disease, hygromas and arthritis.
"SoothSoft's mission is to develop various cooling, cushioning and comfort products," says a spokesman for the company. "Our products cover a wide spectrum of uses. Conserving energy, reducing air pollution, healing an comforting are all merits of our company."
Pet Street Mall says they are thrilled to offer a quality product that was engineered, designed and distributed with the intent of helping to bring comfort and joy to a pet's life. In addition to carrying Canine Cooler Beds, Pet Street Mall recently updated its catalog with an entire section dedicated to cooling off dogs with cool pads, beds, Chillows® and cooling dog clothes. Yet, even with a lot of options to cool off pooches, SoothSoft's Cool Beds are expected to be the most popular of all the choices this summer.