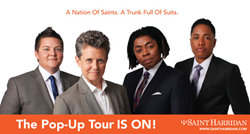 Saint Harridan makes men's suits for women.
Seattle, WA (PRWEB) March 22, 2014
Saint Harridan makes a line of ready-to-wear "men's" suits designed to fit women and transmen. The company will bring its line of suits, dress shirts, and other accessories to Seattle for a 3-day event March 28, 29 and 30th at Sole Repair event venue in the Capital Hill area- 1001 E Pike St, Seattle, WA 98122.
Saint Harridan started because its Founder, Mary Going, needed something to wear. In 2008 when California granted equal marriage rights, she and her long-time partner wanted to get married. But, as Going tells it, she had nothing to wear. "I've completely sworn off dresses. Men's suits were too big. Boys' suits didn't fit across the chest, and the customer service in men's shops was humiliating."
Recognizing – feeling – a hole in the marketplace, Going, who holds an MBA but who had no garment experience, started the company in 2012 with a successful 30-day Kickstarter campaign that resulted in $137,000 in pre-orders from 1100 people.
The company completely re-engineered the basic man's suit to fit a woman's body off the rack. "People told me I should do the custom-made thing, but I figured that if I could go to Banana Republic and buy a women's size 6, I should be able to buy a men's suit in my size too," says Going.
Having produced its first line of suits, the gender-blending clothing company, co-owned by Dominique "Dom" Brassey, is now on a nationwide "Pop-Up" tour, bringing the Saint Harridan clothing line to 12 U.S. cities. "I want people to try on the suit, even if they aren't in the market to buy one right now," says Brassey. "It really does fit right off the rack."
For Courage, The Lyon Suit
A well-fitting suit may not sound revolutionary, but for women, wearing masculine-style clothes is a very personal, very public form of activism. And it can be risky. The Lyon Suit is thus designed to fit women's bodies and their genders—and also to match their courage.
The Lyon Suit features the same silhouette as a traditional men's suit, with bold shoulders and smooth lines—no hugging darts, ballooning pleats, or straining seams. It's a suit designed more like traditional board room armor, meant to strengthen the appearance of the wearer rather than cling to their every curve. The 100% wool suit offers a handsome and classic fit, highly functional interior pockets, and superior Made-in-the-USA construction.
"These clothes are meant to support the confidence and integrity of our customers—who are teachers, lawyers, publicists, groomsmen," says co-owner and Director of Operations, Dom Brassey. "If getting dressed up is an obstacle for our customers, then Saint Harridan is here to remove that obstacle, so that our people can be visible and self-actualizing, can live big lives—and do important things in this world."
"Off-the-Rack" Shopping + Seattle Pop-Up Shop
Saint Harridan offers the Lyon Two-Piece Suit in off-the-rack sizes (30-50), in select colors. Or, special orders can be made in other fabrics. A tuxedo version of the suit is also available for special order. Off-the-rack garments are constructed to accommodate additional tailoring according to the wearer's preference.
Customers may order online (at http://www.saintharridan.com), or by telephone (510-473-5414). In-person shopping is available at the Saint Harridan Pop-Up Shop (http://www.saintharridan.com/tour) or the Saint Harridan studio in Oakland, CA (call for appointment).
Saint Harridan's Seattle Pop-Up Shop will be located at Sole Repair, 1001 E Pike St, Seattle, WA 98122. Doors open 1:00pm-5:00 on Friday, and from 11am to 6pm on Saturday and Sunday. Available merchandise includes suits, shirts, socks, and other masculine-of-center accessories. Visit the Saint Harridan website for more information: http://www.saintharridan.com/tour.
Calendar Editors:
The Saint Harridan Pop-Up Shop – 3 Days in Seattle
Date: Friday, March 28, thru Sunday, March 31, 2014
Time: Friday: 1pm to 5pm
Saturday and Sunday: 11:00am – 6:00pm
Location: Sole Repair, 1001 E Pike St, Seattle, WA 98122
Cost: FREE
POP-UP TOUR INFO
2014
March 28-30: Seattle
April 11-13 : Boston
May 9-11: New York
June 13-15: Philadelphia
June 26: San Francisco
July: Minneapolis
August: Portland, Oregon
September: Detroit
October 17-19: Provincetown
November: Chicago
December: Los Angeles
PAST
2013
August 17-18: Oakland
November 10: Los Angeles
December 2-24: Oakland
2014
January 31 - Feb 2: Baltimore
February 3-4: Washington DC
February 27-Mar 2: Atlanta
###