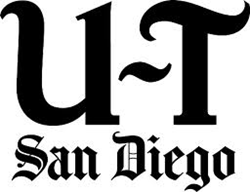 One of our goals at the U-T is to surprise the reader every day
San Diego, CA (PRWEB) March 20, 2014
The Associated Press Sports Editors (APSE) organization has ranked the U-T San Diego Sports Department among the best in the U.S.
In this year's contest, the U-T took home six APSE awards – considered to be among sports journalism's most prestigious honors.
"We are extremely proud of our sports department and their most recent awards for great journalism," said Mike Hodges U-T San Diego President and Chief Operating Officer. "Executive Sports Editor Larry Graham and his team have embraced our multi-platform approach, delivering our audience the top sports report in San Diego."
For the first time, the U-T placed in the top 10 for Sunday sports sections. What makes this achievement even more significant is that the U-T competes against the largest newspapers in the country – the over 175,000 daily print circulation category. Other winners in this group included the New York Times, Washington Post, Boston Globe, Chicago Tribune, New York Daily News, Dallas Morning News, Denver Post, Kansas City Star and Seattle Times.
"One of our goals at the U-T is to surprise the reader every day, whether it's with a breaking news story, an informative graphic, an interesting video or a breathtaking photo," Executive Sports Editor Larry Graham said.
The U-T also finished in the top 10 in the Projects category for its staff coverage of San Diego's Top 50 Historical Sports Sites.
Further, the company was named one of the top 10 newspaper websites in the largest category based on monthly unique visitors, a first for the U-T.
"All of our reporters think multi-platform now," Graham said. "They're writing the story, preparing a script for a video segment, and often send a suggestion to help with design. We're all helping each other out and lifting each other up. We're a team in every sense of the word."
Individual awards included:

Michael Gehlken: Named one of the top 10 beat writers in the country for his Chargers coverage. It's the first time a U-T reporter has earned this honor.
Mark Zeigler: His story on Online Sports Piracy was named among the top 10 in the Explanatory category. Zeigler covers the Aztecs and Olympics.
Ricky Young/Zeigler: Watchdog Team Editor Ricky Young and Zeigler scored a top 10 ranking in the Breaking News category for their coverage of Beth Burns' departure from SDSU.
More information on this year's contest winners and the APSE organization can be found at: http://apsportseditors.org/newsletter/2013-apse-contest-all-results/
About U-T San Diego
The San Diego Union-Tribune, LLC, owner of the 146-year-old U-T San Diego, is San Diego's leading media company and its most comprehensive source of news and information. Each week, U-T San Diego products reach more than 96 percent of all San Diego County households through the combined strength of its integrated media portfolio: the Pulitzer Prize-winning newspaper, U-T San Diego; the website, UTSanDiego.com; the Night + Day weekly entertainment guide; Spanish-language products, Enlace and Vida Latina San Diego; U-TTV, a Digital Platform that provides content, news and programming; and additional home-delivered products.