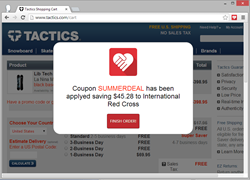 Our customers' statistics shows that charity plugins implemented with these features raise between 20- 40% more funds than those that do not.
(PRWEB) March 21, 2014
The browser plug in experts BestToolBars publish an enlightening new paper today which outline exactly how browser plug ins can be leveraged to help online charities raise money.
The result of extensive research, the paper demonstrates that there are a range of ways for charities to raise money online using plug ins and several ways in which donations can be optimized by using a number of browser plug in features and functions.
Valery Kuznetsov, Key Projects Manager at Besttoolbars said, "There are a lot of different ways to raise money for charity companies through browser plugins. In our research paper, we have focused on identifying the ones that are the most effective in generating donations from users. Our customers' statistics shows that charity plugins implemented with these features raise between 20- 40% more funds than those that do not."
Topping the list of plug in features that can help online charities raise money is price comparison functionality. This is described as a great add on to the basic functionality of any charity plugin, by browsing for better deals for the user, offering the same product from other sellers at lower prices. This helps to encourage those considering a purchase or feeling some hesitation to take the plunge, maximizing donations.
With so many browsers now having a share of the market, incorporating cross browser compatibility into a plugin can also help online charities to ramp up donations. This is achieved by ensuring that all users, regardless of whether the browse via Chrome, Internet Explorer, FireFox or another option entirely, enjoy a hassle free experience. Making the plugin stable in all browsers and compatible with each keeps users using the plug in, again helping to maximize donations.
A browser add-on that helps the user to make the decision to buy in the form of a coupon auto-apply function can help raise more funds for online charities. BestToolBars determined that an auto apply removes the need for the user to do anything and by relieving them of this burden, more monies can be raised.
A promoted merchants and charities function was deemed to be the final way in which charity adds can raise more money. This feature informs users about the top deals offered in a non intrusive way, reducing the search time and giving easy access to affiliated merchants.
To read the paper in full, visit http://www.besttoolbars.net/articles/how_browser_plugins_help_online_charities_to_raise_money/.
About Besttoolbars: Besttoolbars is a company well known for creating browser toolbars and add-ons. It has worked with an array of global brands, from start-ups to high-profile Fortune 500 corporations including Amazon, Skype, IBM, DHL, TNT and Intel. More than 7000 companies currently use solutions created on the Besttoolbars platform. Its product line includes:
Toolbar Studio: IDE for designing toolbars for Internet Explorer and Firefox
Add-ons Framework: Framework for building add-ons for Internet Explorer, Firefox, Chrome, Safari, and Opera
Besttoolbars also offers a number of services to help businesses integrate their products with desktops and mobile phones. It provides custom browser development, add-ons, add-ins and mobile app development.