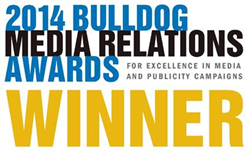 "To be acknowledged by the journalism community for PR excellence among such an outstanding group of firms is one of the highest honors in our industry," said Kiersten Williams
Wake Forest, NC (PRWEB) March 20, 2014
Williams Consulting PR, LLC, an independent public relations and strategic communications practice for financial, professional services, technology and environmental companies has been awarded a 2014 Silver Bulldog Award for Best Green Campaign for "Wastewater Made Clear."
The winners of the 2014 Bulldog Awards for Excellence in Media and Publicity Campaigns were announced today by Bulldog Reporter. These winners enter a pantheon of exemplary communications practitioners, and their campaigns will be summarized in the Bulldog Media Relations Awards Hall of Fame magazine, which is to be published on April 30, 2014.
Winners were chosen exclusively by working journalists from hundreds of entries representing the very best strategic and tactical prowess that PR/corporate communications has to offer. Campaigns were judged by a team of working journalists, who assessed them on the basis of their ability to achieve extraordinary visibility and influence opinion, as well as on their creativity, command of media and technology, and tenacity.
"To be acknowledged by the journalism community for PR excellence among such an outstanding group of firms is one of the highest honors in our industry," said Kiersten Williams, managing member of Williams Consulting PR and award winner. "To successfully influence and generate impact, this environmental campaign demanded a mix of hi-level strategic planning, 'out of the box' execution and a whole lot of chutzpah."
Kiersten is a long-standing member of the Public Relations Society of America (PRSA) and currently serves on the PRSA Board of Directors for the North Carolina chapter as Treasurer. In addition, she is a MarCom Platinum Award winner, the competition's highest honor, for her work in financial services public relations.
About Williams Consulting PR, LLC
Founded by Kiersten Williams in 2001, Williams Consulting PR, LLC is an independent PR and strategic communications practice that specializes in business-building public relations and communications programs for national and global B2B and consumer companies.
Specialty areas include financial services, environmental, financial technology, asset management, hedge funds and financial technology.
To learn more, visit http://www.kierstenwilliams.com.