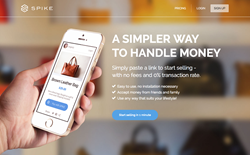 SPIKE is an online payment service free of all commissions and transaction fees, and there are no additional setup fees or monthly charges.
San Francisco, CA (PRWEB) March 24, 2014
Metaps released the closed beta version of SPIKE, a no commission online payment credit service that does not require any installation and can be set up in under a minute.

Groundbreaking introduction of a zero commission online payment solution
When companies use an online payment service, they usually incur on average a 3% commission and an additional transaction fee. These added costs are a problem for small to mid size companies operating on a low profit margin. SPIKE is an online payment service free of all commissions and transaction fees, and there are no additional setup fees or monthly charges.
No installation needed, can be set up in under 1 minute
Implementing online payment solutions into web sites and apps usually requires programming support, which has often been an obstacle for smaller businesses. No programming skill is needed to begin using SPIKE, which can be easily set up by creation of a unique payment URL or embed button through your SPIKE account and inserting into your website or app. SPIKE is compatible for use on all smartphones, tablets, and all other internet connected devices.
Supporting small business owners worldwide
Other credit payment services available on the market were originally designed for and are more suitable for large corporations. SPIKE was designed for individual and small business owners who have avoided online payment services because of the trouble caused by background checks, high commission rates, and difficulty of installation. SPIKE is a service with a mission to revolutionize the way we exchange money on the Internet, by increasing profit margins earned by small business worldwide with an easy to install online payment solution.
Turning transactions "freemium"
For the beta release, SPIKE will start by offering a "Free Plan" for a limited number of users with a cap on monthly transactions up to $10,000, but will gradually raise this limit in a progression towards a complete "freemium" service much like with the evolution of e-mail and crowdsourcing. Likewise, SPIKE will offer a paid "Premium Plan" with no cap on monthly sales, with plans to eventually transform it into a freemium service as well. Through introduction of a developer API for further customization and expanding accepted payments to non-US dollar currencies as well, Metaps is targeting a total of US $20 Billion in SPIKE transactions by 2017.
About Metaps
Metaps operates worldwide and now has offices in the US, Singapore, Japan, China, Korea, Taiwan and Hong Kong. In addition, Metaps closed $11 million series B round of funding led by Fidelity Growth Partners last year.