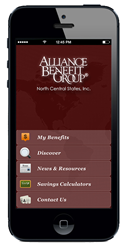 Alliance Benefit Group alongside our advisor and employer partners want to make sure participants can rely on our resources to make the most of their benefits. - Wade Dykema, VP of Sales and Marketing
Albert Lea, MN (PRWEB) March 31, 2014
Alliance Benefit Group North Central States, Inc. announced today the launch of its new mobile app, "Benefits Simplified by ABGNCS." The free app, now available for download on iTunes and Google Play, offers one centralized location for participants to access their retirement and health-related savings accounts. The app also offers access to the latest benefits news, a robust video library, savings calculators, and other resources to support participants in their journey to successful outcomes.
Alliance Benefit Group is a leading provider of retirement and other employee benefit plan solutions, partnering with investment advisors to design and implement custom benefit strategies for employers across the country. "As the employee benefits industry becomes more and more complex, we are committed to simplifying the experience for the customers we serve. This commitment led us to the development of our mobile app so advisors, employers and participants alike could stay connected and informed from anywhere," said Wade Dykema, Vice President of Sales and Marketing at Alliance Benefit Group North Central States, Inc. He added, "Ultimately, whether it's retirement planning, managing healthcare expenses or understanding the array of benefit options, Alliance Benefit Group alongside our advisor and employer partners want to make sure participants can rely on our resources to make the most of their benefits."
Alliance Benefit Group's new mobile app is synced with both their retirement and health savings platforms, easing the burden for customers to access their accounts from multiple locations. The centralized app is also equipped with real-time messaging capabilities, allowing the company to push pertinent notifications directly to app users as another way to offer heightened customer service and keep their audience connected and informed. Steven Pulley, President of Alliance Benefit Group North Central States, Inc., emphasized the company's commitment to their customers, stating, "We'll never rest our efforts to create a benefits platform that is both easy to use and fully equipped to support our benefit solutions. Customer service is who we are; it is what drives our business and sets us apart from our competitors."
About Alliance Benefit Group
Alliance Benefit Group North Central States, Inc. is one of the largest full-service retirement plan providers and benefits administrators in the country with clients in 48 states. Headquartered in Albert Lea, MN, Alliance Benefit Group provides recordkeeping and administrative services to over 100,000 participants in more than 2,000 plans representing more than $5 billion in plan assets. The firm is part of a national network of independently owned retirement plan consulting, investment advisory, health and welfare consulting and benefits administration firms that operate as licensees of Alliance Benefit Group, LLC. Collectively, Alliance Benefit Group provides administrative services to over 13,000 plans representing more than $51 billion in assets and over 1 million plan participants.
###