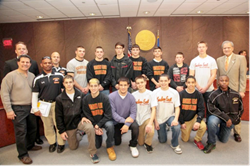 Holbrook, NY (PRWEB) March 21, 2014
Legislator Tom Muratore and Legislator Bill Lindsay III had the pleasure of presenting proclamations to the Sachem High School East County Champions in the sports of Girls Basketball, Boys Bowling and Wrestling.
The Sachem East Girls Basketball team's record this season was 16-7. They were the Division One Champions and Suffolk County Champions. In addition to the team being honored, both legislators honored Coach Matt Brisson who will be retiring after the school year, for an outstanding career as a coach and teacher in the Sachem Central School District.
Boys bowling won the Suffolk County Championship over Middle Country after Sophomore Nick Caruana bowled a 300 and 299 in consecutive games to lead the Arrows to the title.
The wrestling team is led by Coach Isaac Ramaswammy. For the second straight season, they captured the Section XI team championship, narrowly finishing ahead of John Glenn, 141.5-139, on the mat at Hofstra University. In addition to the team, both legislators honored student Mark Tracy on winning the NY State Championship at 182 lbs.
"As an alumni and former student-athlete of the Sachem School District, I am proud to congratulate our Sachem East athletes and their coaches for their consistent commitment to excellence and their three victories in the 2014 Suffolk County Championships for Varsity Girls Basketball, Boys Bowling, and Wrestling," said Legislator Lindsay III. "I am confident that these young men and women will continue to make our community very proud, both inside and outside of the classroom."
"Congratulations to the young men and women on these athletic teams for all of their hard work and for a job well done," stated Muratore.