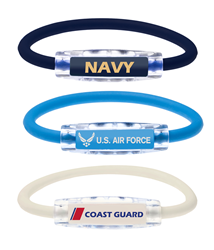 "In five short years, we've become an expanding global brand and are consistently offering new products," says Melissa Gotfredson, CEO of IonLoop. "We want to show our support of the armed services during this major milestone for our business."
Carrollton, TX (PRWEB) March 22, 2014
To celebrate the five-year anniversary, IonLoop is proudly launching a complete Military Collection that includes magnets and negative ion silicone bracelets for each branch of the military: USMC, Navy, Army, Air Force and Coast Guard.
"In five short years, we've become an expanding global brand and are consistently offering new products," says Melissa Gotfredson, CEO of IonLoop. "We want to show our support of the armed services during this major milestone for our business."
The new Military Collection not only includes IonLoop's effective magnet and negative ion technology within the bracelets, but the look and style is unique and perfect for those serving the United States or those of us who support the United States Military.
Gotfredson started the bracelet company in 2009 with her husband, Bob Gotfredson. IonLoop, which began in a small garage, flourished into a globally recognized brand with presence at major events, including the World Cup, both the Summer and Winter Olympics, U.S. Open Golf and Tennis Tournaments, PGA Championships, and the Ryder Cup.
Professional athletes, sports enthusiasts and health-conscious individuals are taking advantage of the wide variety of options they have in magnet and negative ion products. IonLoop offers more than 135 items, including sports bracelets, necklaces and sport watches with built-in magnet and negative ion technology. These products range in color, style and theme, as product offerings continue to grow.
Now the number one U.S. founded sports and lifestyle accessory company featuring negative ion and magnet technology, IonLoop continues working to promote healthy lifestyles.
For more information on the IonLoop Military collection, please visit http://www.ionloop.com or call 1-800-255-8717.
About IonLoop
IonLoop magnet and negative ion bracelets, wristbands, necklaces and sport watches are a great first step in counteracting the harmful effects of positive ions. The negative ion properties are manufactured into silicone bands and will not lose their effectiveness over time. Most of the bracelets and watches also contain two small, powerful magnets that are carefully assembled to alternate the polarity of each magnet; we believe this manufacturing process may be adding another dimension to the stimulus that the magnets may have on the chemistry of the human body. For more information on IonLoop technology and to view all IonLoop products, please visit http://www.ionloop.com.