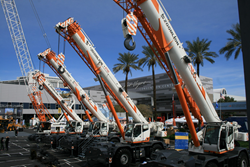 Houston, TX (PRWEB) March 21, 2014
The Global Cranes team has returned to Houston following a triumphant CONEXPO, the most successful in the company's history. Based on the success of the American-designed Zoomlion RT and Crawler crane lines, sold exclusively by Global, it recorded over 12 million in sales just in the last week. While Global had sales that spanned the entire line, its twin superstars at the show were the Zoomlion RT100 Rough Terrain crane and the new Zoomlion ZCC1100H Crawler Crane.
The Zoomlion RT100 has a maximum capacity of 110 US tons, 141' of main boom, and a jib that extends up to 60'. The ZCC1100H Crawler also has a capacity of 110 tons with 220' of boom and a 59' jib. Both cranes, along with the entire the Zoomlion Rough Terrain and Crawler lines, were designed in the United States with world–class components and competitive, if not dominant, charts. In addition, every crane Global sells has the lowest pricing for its class in the industry.
As the Global Cranes brand grows and becomes better known, it's starting to have challenges keeping its industry best cranes in stock. To both fill existing orders and cut down on lead times for future requests, Global agreed with Zoomlion at CONEXPO to take immediate delivery of 60 rough terrain cranes across their entire line, as well as 10 ZCC1100H Crawlers. These cranes will be available shipping from either Houston or the San Francisco Bay Area in the coming months.
ABOUT GLOBAL CRANES
Global Cranes, in partnership with Zoomlion, offers full lines of Rough Terrain Cranes and Crawler Cranes that meet ANSI standards. The Global team has more than 100 years combined experience in the crane industry and is poised to meet the needs of customers both domestically and internationally. For more information, contact Global Crane Sales, 13201 Northwest Freeway, Suite 800, Houston, TX 77040, call 832-460-3939, email info(at)globalcranesales(dot)com, or visit the website at http://www.globalcranes.com.