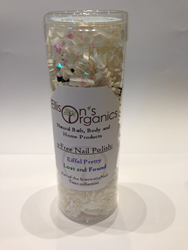 To provide the freshest product possible, I mix each nail polish shade to order, right in the bottle.
San Antonio, Texas (PRWEB) March 24, 2014
Ellison's Organics (http://www.ellisonsorganics.com) will be helping celebrities get their nail art on when two hot new shades from its popular "InternatioNail Tour" Collection are included in The Artisan Group® swag bags at GBK's Luxury Gift Lounge in Honor of the 2014 MTV Movie Awards Nominees & Presenters. The always popular Gift Lounge takes place April 11-12, 2014 at an exclusive location in Beverly Hills, California.
The gifted polishes will be presented as a fashion-friendly duo that includes the shades "Eiffel Pretty," a soft purple mica that brings a lovely sheen to the nail, and "Lost and Found," a sparkly green and blue that jumps off the nail for a striking effect and looks beautiful alone or as an overcoat. The two bottles of polish are attractively packaged in a clear container with white and shimmer confetti, ready to swipe on for a quick hit of nail swagger.
"Eye-catching nail polish colors and nail art in general remain on trend, as seen on the runways at New York Fashion Week," said Carleigh Pearce, founder and President of Ellison's Organics. "I'm excited to introduce these of-the-moment yet classic shades to the MTV crowd."
Recipients will appreciate the fact that Pearce herself creates the nail polishes, one bottle at a time. They are vegan-friendly and made without gluten, formaldehyde, toluene or DBP. "To provide the freshest possible product, I mix each nail polish shade to order, right in the bottle," notes Pearce. "My concern is keeping our polishes as healthy and environmentally friendly as possible, so in addition to eliminating harsh chemicals, all colors are derived from natural micas and pigments."
Ellison's Organics offers a wide range of nail polish shades, which retail for $9.00 to $14.00 for a 15 ml bottle. They are available online at ellisonsorganics.com and at select boutiques.
Ellison's Organics was founded by Carleigh Pearce in 2012 in an effort to find affordable organic soap products she could use with her children. As her passion for creating handcrafted natural bath and body products grew, so did the company.
Today Ellison's Organics offers a full line of body and bath products for kids and adults and has achieved the coveted five-star rating on Etsy. Its Building Block and Figurine soaps are popular birthday presents and stocking stuffers for kids, while the Four Clay Mask, Lavender and Grey Sea Salt Spa Salts and Vanilla Bean Soy Tarts are popular with adults and older teens.
To learn more about Ellison's Organics, contact Carleigh Pearce by email. Become a fan on Facebook (ellisonsorganics) and follow the company on Twitter (@ellisonsorganic). For press inquiries regarding The Artisan Group®, visit theartisangroup.org.
ABOUT ELLISON'S ORGANICS
Ellison's Organics (http://www.ellisonsorganics.com) of San Antonio, Texas is the place to shop for handcrafted organic and natural bath and body products. Healthy, handmade beauty products including organic kids' soaps, bath salts, nail polish, healing salve, soy wax melts, lip balm and more are carefully formulated with the finest ingredients to cleanse, nourish and pamper body and home and to avoid harsh chemicals and additives.