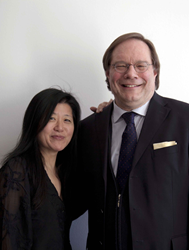 This is a rare opportunity to taste some amazing wines and really understand the richness of Italian viticulture.
Verona, Italy (PRWEB) March 21, 2014
Vinitaly International today announced the newest seminars in its Vinitaly International Academy (VIA) series, to be presented at Vinitaly 2014 in Verona, April 6-9. VIA is an innovative educational initiative that allows members of the wine trade to deepen their knowledge of Italian wine, and assists them in their effort to sell one more bottle in top international markets.
After a successful premier in New York in February of this year, this series of Executive Wine Seminars (EWS) - lectures and tastings led by scientific director Ian D'Agata – will continue to follow Vinitaly International, the ambassador of Italian wine, on its tour stops around the world, with engagements planned in Chengdu (China), Shanghai, Moscow, and Hong Kong. When it takes the stage in Verona at the world's biggest wine event, the three EWS presentations will focus on red wines from the Graves, Y and Yquem, and native Italian varietals, respectively.
Dr. D'Agata, together with Vinitaly International Managing Director Stevie Kim will present the parameters and objectives of the project at a press conference at the opening of Vinitaly, Sunday April 6. "VIA was conceived as a kind of think tank or permanent symposium for wine – we seek to create professionals, abroad and also here in Italy, who are certified by a specific expertise in Italian wine," explains Dr. D'Agata. "All of the Executive Wine Seminars of VIA feature a power point presentation that precedes the tasting. There are already enough opportunities to just drink – with VIA we want to create something more academic, with a serious scientific basis. I firmly believe that only by increasing cultural awareness of our wine and our winemaking traditions can we hope to increase the sales of our products, help our wineries and our local economies, and also create jobs."
VIA's premiere in the United States – and its presentation next week in China – featured seven different VIA Exclusive Wine Seminars, each dedicated solely to Italian wines: Barolo, Franciacorta, Bolgheri Superiore, and Amarone, among others. At Vinitaly in Verona, the EWS will share the stage with foreign wines as well – beginning with France.
"We need to know how to look abroad, otherwise we lose the opportunity to exchange information and knowledge, and also learn from each other," affirms Dr. D'Agata. "This year Vinitaly International will make tour stops all over the world, and our guided tastings and round tables will be dedicated only to Italian wine. But in Verona we want to highlight the truly international nature of VIA, the ability to speak knowledgeably also about wines beyond Italy – even if, of course, it remains our principle mission to broadcast, explain and divulge Italian wine all around the world."
With this international focus in mind, the EWS Verona series kicks off Sunday, April 6 at 10:30am with Great reds from the Classified Growths of Graves. Dr. D'Agata will lead a tasting of 12 great red wines from this micro-zone within the region of Bordeaux, and explains his enthusiasm for sharing these wines with Italy's own red wine producers: "The idea is to give our producers the possibility to taste wines of Cabernet and Merlot made by others – in this case, one of the best producers in France – as well as to listen and pose questions to Eric Perrin, wine maker and President of the association Crus Classés de Graves."
The second seminar, entitled Y and Chateau d'Yquem: the two souls, dry and sweet, of the world's most famous wine, scheduled for Monday, April 7 at 11am, continues the French homage with a vertical of Yquem, the world-famous French sweet wine, as well as Y, its dry version. "To give to VIA the right framework and world relevance, I thought that in Verona, we should begin with a wine that is, if not the most famous wine in the world, at least one of the top five," explains Dr. D'Agata. "Certainly it is one of the most important verticals of this magical wine to take place in Italy – especially because we will have with us Sandrine Garbay, the winery's enologist who knows the vineyards and terroir of Yquem like few others in the world." Together with Dr. Garbay, Dr. D'Agata will analyze these two legendary wines, presenting - with the Academy's signature depth and scientific data - the reasons that make d'Yquem one of the most unique wineries in the world.
Finally, concluding the EWS Verona series on Monday April 7 at 3:30pm will be a tribute to Italy's native varietals, Italy's greatest wines from native grapes: old vintages, rare and unique names in a one-of-a kind tasting. "In Italy we have at least 500 different varieties of wine grapes – by some estimates, more than a thousand," explains Dr. D'Agata. "This means at least 30% of the world's grape varietals are Italian. This is an enormous wealth for our country, but it also requires a great deal of effort toward education. In this unique tasting, I have chosen a combination of brand new wines made from old vines, wines that can be considered to be the archetypes of the grape varietal in the bottle, as well as some magnificent wines that are absolutely impossible to find, such as the Chianti Rufina Riserva Personale Lamberto Frescobaldi of 1961 or the Soave Classico Calvarino 1992 Pieropan. This is a rare opportunity to taste some amazing wines and really understand the richness of Italian viticulture. "
About:
Veronafiere is the leading organizer of trade shows in Italy including Vinitaly (http://www.vinitaly.com), the largest wine event in the world. The 47th edition of Vinitaly counted some 148,000 visitors (+6%), of which 53.000 were international attendees (+10%) visiting from 120 countries. On 95.000 square meters, 4.200 exhibitors welcomed trade professionals, media and producers alike. The next installment of the fair will take place on 6th- 9th April 2014. The premier event to Vinitaly, OperaWine (http://www.vinitalyinternational.com) "Finest Italian Wines: 100 Great Producers", will unite international wine professionals on April 5th 2014 in the heart of Verona. Veronafiere also created Vinitaly International in 1998 to develop a global platform for the promotion of companies in the Italian wine and food sectors.
# # #