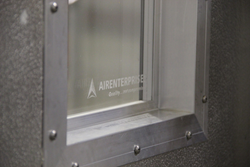 Total lowest cost of operation and ownership
Cincinnati, OH (PRWEB) March 23, 2014
Air Enterprises is excited to participate in the 2014 Symposium on Sustainability in Healthcare on Tuesday, March 25th geared towards educating the industry in the latest advances for sustainable infrastructure planning, design, and construction. This event will contain a key focus on adopting the increasing ASHE energy efficiency standards.
Healthcare environments need air handling that meets the highest standards of contamination prevention, sustainability, and operation. Air Enterprises helps healthcare facilities meet or exceed these requirements by providing:

Contamination prevention through wash down accessible equipment
Efficient economization with energy recovery via the Thermotech Thermowheel®
All-aluminum construction for 50 year service life
On-site assembly for minimized downtime via SiteBilt®
Total lowest cost of operation and ownership
About Air Enterprises
Air Enterprises designs, engineers and manufactures custom air handling solutions to meet any system configuration or space requirement. The Company has special expertise across many industries, including automotive, data centers, healthcare, industrial, pharmaceutical, and educational markets. With 50 years of application experience and a focus on energy savings and sustainability, Air Enterprises partners with the client to deliver the most efficient solution at the lowest total cost.
Air Enterprises has partnered with the some of the most distinguished healthcare facilities in the world including the Cleveland Clinic, Johns Hopkins, Massachusetts General Hospital and St. Jude Children's Research Hospital.
For more information about Air Enterprises' Healthcare Solutions visit: http://airenterprises.com/markets/healthcare-facilities/
About Thermotech Thermowheel®
Thermotech is the industry leader in the manufacturing and installation of energy recovery wheels, heat wheels, enthalpy wheels, sensible wheels and energy recovery wheel replacement systems. Thermotech offers the latest technology in rotary air-to-air heat exchangers, replacing conventional heat wheels with high-performing Thermowheel® energy recovery ventilation. For more information, visit thermowheel.com.