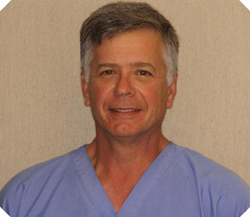 Corpus Christi, TX (PRWEB) March 23, 2014
Dr. Tilman Richards, in conjunction with National Nutrition Month taking place in March, is urging his patients to become more educated with regard to the positive impact that proper nutrition can have on oral health. There is significant concern that tooth loss will become even more widespread if many people do not make changes to their diet. Dr. Richards, who offers dental implants in Corpus Christi and the surrounding areas, understands that change is difficult. The rewards, according to the doctor, are significant if changes are indeed made by patients.
Even though tooth enamel is one of the strongest substances in the body, it may be the victim of decay due to poor diet and nutrition. Conversely, enamel can actually be strengthened if the proper vitamins and nutrients are consumed on a daily basis. Since tooth loss is a potential result of improper nutrition, serious steps should be taken to avoid this condition.
Dr. Richards performs dental implants in Corpus Christi and the areas nearby, and the procedures have certainly advanced over time. Despite these advances, it is still advisable to take steps to prevent tooth loss from occurring. There are certain foods that can aid in the avoidance of missing teeth, such as those high in protein, calcium, and vitamin D. Each of these can strengthen the bones, jaw, and enamel.
Many adults have suffered from missing teeth due to a variety of factors. This issue is becoming increasingly prevalent, yet Dr. Richards believes that if certain steps are taken from a nutritional standpoint, the loss of teeth may be potentially avoided. Parties who are interested in dental implants in Corpus Christi or the surrounding areas should call the doctor's office to schedule an appointment for consultation.
About the Doctor
Tilman Richards, DDS is a general dentist who has provided patients personalized dental care in Corpus Christi, TX since 1984. Dr. Richards graduated with honors from Sam Houston State University with a Bachelor of Science in biology, and he attended Baylor Dental School in Dallas where he received his degree as a doctor of dental surgery. He is also a member of the American Dental Association, Texas Dental Association and Nueces Valley District Dental Society. Dr. Richards is part of one percent of dental professionals providing the LANAP® FDA cleared laser procedure for gum disease treatment. To learn more about Tilman Richards, DDS and his dental services visit his website at http://www.corpus-christi-dentist.com and call (361) 238-2373.