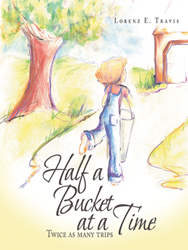 There is nothing you cannot do if you are willing to put in the effort and take the time
PEORIA, Ill. (PRWEB) March 22, 2014
How much more could you accomplish if you were willing to take twice as many trips?
"Half a Bucket at a Time" highlights the important lessons of persistence and hard work. Through the life story of a young girl's growth through sickness, goals, change and family, the book encourages others to approach life with strength, patience and love.
Author Lorenz E. Travis shares the wisdom and philosophy carried out and inspired by his late wife Gena. When Gena was a young girl, her father encouraged her to divide the chores into manageable steps – a sentiment that she carried on in her life through her personal projects and battle with cancer.
"It is my wish that Gena's true story can inspire others as they face their own burdens and challenges," Travis said. "There is nothing you cannot do if you are willing to put in the effort and take the time."
"Half a Bucket at a Time" helps children and adults understand the value of a strong work ethic and commitment.
For more information, please visit http://bookstore.authorhouse.com.
"Half a Bucket at a Time"
By: Lorenz E. Travis
Paperback: $20.99
E-Book: $3.99
ISBN: 9781477276112
Available at bookstore.authorhouse.com, amazon.com and barnesandnoble.com.
About the author
Lorenz E. Travis was married to Gena for more than 25 years and continues to share her inspirational message. Travis currently lives in Hopedale, Illinois.
# # #