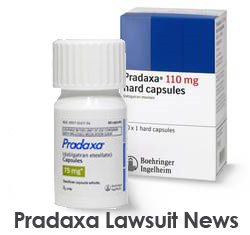 Wright & Schulte LLC continues to speak with people believed to have suffered severe bleeding due to Pradaxa. For a free legal consult visit www.yourlegalhelp.com or call 1-800-399-0795
Columbus, OH (PRWEB) March 23, 2014
The federal judge overseeing thousands of Pradaxa lawsuits in the U.S. District Court, Southern District of Illinois, has established new dates for the litigation's first bellwether trials, Wright & Schulte LLC reports. According to a Pretrial Order issued on March 5, 2014, by U.S. District Judge David Herndon, jury selection in the first Pradaxa trial is scheduled to begin on September 8, 2014, with Opening Statements starting on September 15, 2014. The remaining trials will begin on December 1, 2014, February 17, 2015 and March 23, 2015. (In Re: Pradaxa (Dabigatran Etexilate) Products Liability Litigation – MDL No. 2385)
According to Wright & Schulte LLC, bellwether trials are vital in any large litigation such as the proceeding established for Pradaxa bleeding claims. Among other things, they will provide insight into the strength of plaintiffs' cases, and could predict how juries will rule in similar Pradaxa lawsuits.
More than 2,300 Pradaxa lawsuits have been filed in the U.S. District Court, Southern District of Illinois on behalf of patients who allegedly suffered dangerous internal bleeding due to Pradaxa. Plaintiffs claim that Pradaxa was wrongly marketed as an improvement over warfarin, a blood thinner that has been on the market for decades. Pradaxa lawsuits further allege that the manufacturer of Pradaxa concealed the drug's potential side effects, particularly the lack of an antidote for Pradaxa bleeding.
Pradaxa was approved by the U.S. Food & Drug Administration (FDA) in 2010, and is indicated to prevent strokes in people with atrial fibrillation. In October 2013, the Institute for Safe Medicine Practices reported that the FDA received nearly 3,300 Pradaxa side effect reports in 2012, a number that outpaced every other drug the agency monitored that year. Most of the reports, including hundreds of fatalities, involved cases of Pradaxa bleeding. The report also noted that Pradaxa side effects proved fatal in 18% of the cases, while injuries linked to warfarin resulted in fatal outcome just 6.5% of the time.
[ismp.org/QuarterWatch/pdfs/2012Q4.pdf, ISMP QuarterWatch, Oct. 17, 2013]
According to a notice posted on an FDA website on December 30, 2013, the agency has decided to conduct a large study of Pradaxa bleeding rates to assess "selected safety outcomes in adults with atrial fibrillation who are new users of dabigatran or warfarin. "
[mini-sentinel.org/assessments/medical_events/details.aspx?ID=219, FDA, Dec. 30, 2013]
Wright & Schulte LLC is already representing plaintiffs in Pradaxa lawsuits that have been filed in the federal multidistrict litigation, and continues to offer free legal consultations to alleged victims of Pradaxa bleeding side effects. For more information on filing a Pradaxa bleeding lawsuit, or to arrange for a free legal consultation, please visit yourlegalhelp.com.
About Wright & Schulte LLC
Wright & Schulte LLC, an experienced personal injury firm, is dedicated to the belief that America's legal system should work for the people. Every day, the attorneys of Wright & Schulte LLC stand up for the rights of people who have been injured or wronged and fight tirelessly to ensure that even the world's most powerful corporations take responsibility for their actions. If you're looking for a law firm that will guarantee the aggressive and personal representation you deserve, please do not hesitate to contact Wright & Schulte LLC today. Free Pradaxa lawsuit case evaluations are available through yourlegalhelp.com or by calling 1-800-399-0795.
Contact:
Wright & Schulte LLC
812 East National Road
Vandalia, Ohio 45377
1-800-399-0795
http://www.yourlegalhelp.com
http://www.facebook.com
http://www.twitter.com