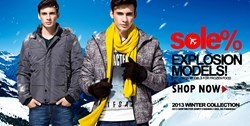 (PRWEB) March 22, 2014
Recently, Skmen.com an innovative company providing many kinds of men's and women's clothes, has released its latest assortment of spring dresses for girls. The company made the decision to create this range in the hope of expanding the online market in a short time.
As part of its comprehensive clothing solution, the company has also updated its website and added these brand new spring dresses to its online category. Its aim is to make its website a convenient place for worldwide customers who are looking for cheap and quality clothes.
As a matter of fact, the reliable supplier has more than 4000 happy customers. Now, it is working hard to make more chic items for old and new clients.
"We are proud to unveil our new range of cheap spring dresses for girls. Each of them is attentively manufactured by our skilled workers with rich experience in the industry. They are offered in over 30 different styles and colors. As you all know, our spring outfits are among the best-selling items of our company. I sincerely hope you like our new designs. It is worthy to mention that all of them are provided at discounted prices at present, up to 28% off. The special offer will be valid until April 11," the marketing specialist of the company says.
About Skmen.com
Skmen.com, a China-based company founded in 2009, is one of the leading suppliers of men's and women's high quality clothes. It has more than 5000 customers from every part of the world; it hopes to help worldwide stylish ladies and gentlemen. For more detailed information about the company and its wonderful items, readers can visit http://www.skmen.com/product-long-sleeve-dresses-003004007.aspx.