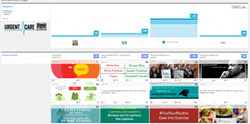 Keep your friends close and your competitors closer.
(PRWEB) March 27, 2014
By now it is common knowledge that social media is extremely important for Urgent Care Marketing. With that said, it's not enough to have a Facebook page. Social media has several angles that need to be covered. To help manage the demand Urgent Care 2.0 has a new social reporting tool - "Social Reporting 2.0". Below are some tips on how the new tool can be used to master social networking for urgent care.
1. Brand Following on the Main Channels -
The first step is getting out there. The top 5 social sites for Urgent Care right now are: Facebook, Twitter, LinkedIn, Google + and Pinterest. Just know that this could change tomorrow so be flexible. From there you need to establish a following. (Likes, Follows, Connections, Circles, Pins…) Every channel has their lingo for when someone decides to connect with your brand. The more the merrier, but it's not just about a large following, it's how you use it.
2. Follower Engagement -
Now that you've got people connecting with you on social channels how do you create engagement and why is it important? Let's first answer the "why". Without engagement no one is finding your activity relevant. No likes, shares, comments, re-tweets, pins, etc. You're not going to get any new patients that way. Not only is a lack of engagement directly affecting your connection to your audience on those channels, it's affecting how Google looks at you. One of the major ways they rank a website for a keyword is by social engagement. If your followers find you irrelevant then Google's taking their cue and ranking you accordingly. The next part of that question is how do you create engagement. It's all about relevant consistent activity on the social channels.
3. Social Reporting 2.0
One of the most unique and powerful tools in our industry is our Social Media Analytics. We have the top in the game. We have the ability to give weekly reporting for you and 3 of your top competitors. We grade your engagement on Facebook, Twitter, LinkedIn, Google +, Pinterest and your website's blog activity. The engagement scoring is based on likes, comment and shares of your content on those platforms.
The only way to fully understand is to see the report for yourself. Click here to see the live report for 4 of the biggest names in Urgent Care across America.
This data has led many Urgent Care Clinics to key info about their competition and how to beat them. Where are the weak points in your competition? What kind of activity is getting engagement and what's not? Would you like to try your report for free? Click here to get started.