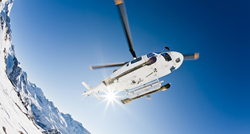 The most extensive collection of luxury Asia private helicopter trips on the internet
New York, NY (PRWEB) March 24, 2014
Remote Lands, the world's foremost ultra-luxe Asia travel designer, today launched an extensive range of private helicopter experiences throughout Asia.
Drawing on its years of experience in Asia luxury travel, and on its network of helicopter suppliers across the region, Remote Lands has created a collection of its favourite helicopter trips in 13 countries, with more destinations being added all the time.
The collection consists of various short helicopter flights, including trips to Everest Base Camp in Nepal, over the volcanic peaks of Bali in Indonesia or Mt Fuji in Japan, and to Halong Bay in Vietnam. It also includes longer itineraries using helicopters to take travellers to remote, barely accessible destinations including Nepal's Mustang region, Nagaland in India, and the Philippines' Caramoan Peninsula.
"Travelling by helicopter has two big benefits" says Jay Tindall, Remote Lands' co-founder and COO. "Firstly, a helicopter flight gives you a spectacular new bird's-eye perspective on well-known sights. For example, it's impossible to appreciate the magnitude of Cambodia's Angkor Wat complex or Phuket's Phang Nga Bay without seeing it from above. Secondly, helicopter flights can shave hours off journey times, for example from Sri Lanka's cultural triangle in the north to its beaches in the south, or to far-flung places such as the Banaue Rice Terraces in the Philippines, which would otherwise entail long road journeys."
Tindall adds: "Our helicopter experiences collection is the result of many hours of research and discussions with local helicopter operators, and is the most extensive collection of luxury Asia private helicopter trips on the internet."
To find out more about luxury private helicopter travel in Asia with Remote Lands, visit the company's website or email info(at)remotelands(dot)com.
About Remote Lands, Inc.
Remote Lands, Inc. creates highly personalized, ultra-luxe holidays in Asia, optionally by private jet or yacht. Based in New York and Bangkok, they specialize in extraordinary experiences that are difficult to arrange and require privileged access to important people and exclusive events, drawing upon their relationships with remarkable people around Asia. They distinguish themselves with their unparalleled service, creative itineraries and extreme attention to detail.
Remote Lands has been featured in The New York Times, The Wall Street Journal, Departures, Travel + Leisure, Condé Nast Traveler, Town & Country, the BBC, Fox Business News, Financial Times, National Geographic Traveler, W, Newsweek, Forbes, BusinessWeek and more.