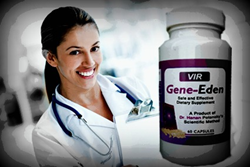 As research shows, the Epstein Barr Virus is a highly efficient virus. We recommend Gene-Eden-VIR, which was designed to target this incredibly 'smart' virus during the latent phase. – Mike Evans, polyDNA
Rochester, NY (PRWEB) March 25, 2014
The Epstein Barr Virus (EBV) uses a crucial gene to evade the immune system and cause cancer. "The gene, known as STAT3,… activates the immune system's B cells to produce the antibodies that fight off infections (1)." But while too little STAT3 leaves the body's defences down, overactive STAT3 increases the ability of EBV to cause cancerous lymphomas. "Paradoxically, this does not happen to people with an immune disorder known as Job's syndrome, whose STAT3 gene does not work properly (1)." In other words, people with normal genes are more at risk of EBV caused cancers than those with faulty genes. Since most people have normal genes and the CDC says that "Most people get infected with EBV at some point in their lives," (See the CDC, last January 6, 2014) (2), polyDNA recommends that individuals talk to their doctors about Gene-Eden-VIR. This natural antiviral was proven to reduce EBV symptoms in a post-marketing clinical study that followed FDA guidelines.
How does the relationship between EBV and STAT3 lead to cancer?
The study's findings suggest that while STAT3 is a very important part of immunity, "it also allows many types of tumours to form by suppressing the DNA damage response (1)." Dr. Umaimainthan Palendira said that EBV exploits STAT3 to "get past 'checkpoints' in the body's immune system (1)."
"EBV is found all over the world. Most people get infected with EBV at some point in their lives. EBV spreads most commonly through bodily fluids, primarily saliva. EBV can cause infectious mononucleosis, also called mono, and other illnesses. Symptoms of EBV infection can include: fatigue, fever, and inflamed throat, swollen lymph nodes in the neck, enlarged spleen, swollen liver, and rash (2)." EBV is also associated with the development of various cancers.
"There is no vaccine to protect against EBV infection. You can help protect yourself by not kissing or sharing drinks, food, or personal items, like toothbrushes, with people who have EBV infection (2)." In addition, polyDNA recommends that people take Gene-Eden-VIR.
"As research shows, the Epstein Barr Virus is a highly efficient virus. We recommend Gene-Eden-VIR, which was designed to target this incredibly 'smart' virus during the latent phase." – Mike Evans, polyDNA
In a post marketing clinical study published on August 12, 2013 in the medical journal Pharmacology & Pharmacy in a special edition on Advances in Antiviral Drugs, researchers showed that Gene-Eden-VIR is safe and effective (3). Additionally, up to 70% of those studied reported a decrease in symptoms associated with EBV infection, and users experienced an increase in overall health (3).
Each ingredient of Gene-Eden-VIR was chosen through a scientific approach. Scientists scanned thousands of scientific and medical papers published in various medical and scientific journals around the world to identify the safest, most effective natural ingredients that target latent viruses (3).
To learn more about Gene-Eden-VIR and the Epstein Barr Virus, visit: http://gene-eden-kill-virus.com/EBV.php.
All orders of Gene-Eden-VIR are completely confidential, and no information is shared or sold to any third party. Privacy is assured.
Reference:
(1) Cancer virus 'exploits' immune gene. Published on March 18, 2014.
http://www.theaustralian.com.au/higher-education/cancer-virus-exploits-immune-gene/story-e6frgcjx-1226857447300
(2) CDC - About Epstein-Barr Virus (EBV). Last updated January 6, 2014.
http://www.cdc.gov/epstein-barr/about-ebv.html
(3) Gene-Eden-VIR Is Antiviral: Results of a Post Marketing
Clinical Study. Published on August 12, 2013.
http://gene-eden-kill-virus.com/PP_Gene-Eden-VIR-is-Antiviral.pdf
polyDNA is a biotechnology company that develops dietary supplements using the unique scientific method developed by Dr. Hanan Polansky, which is based on Computer Intuition.
In addition to his unique scientific method, Dr. Polansky published the highly acclaimed scientific discovery, called Microcompetition with Foreign DNA. The discovery explains how foreign DNA fragments, and specifically, DNA of latent viruses, cause most major diseases.
polyDNA developed Gene-Eden-VIR , an antiviral natural remedy that helps the immune system kill latent viruses.