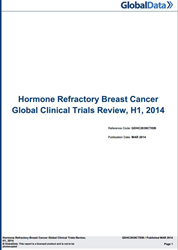 Rokville, MD (PRWEB) March 27, 2014
Hormone Refractory Breast Cancer Global Clinical Trials Review, H1, 2014
GlobalData's clinical trial report, "Hormone Refractory Breast Cancer Global Clinical Trials Review, H1, 2014 provides data on the Hormone Refractory Breast Cancer clinical trial scenario. This report provides elemental information and data relating to the clinical trials on Hormone Refractory Breast Cancer. It includes an overview of the trial numbers and their recruitment status as per the site of trial conduction across the globe.
The databook offers a preliminary coverage of disease clinical trials by their phase, trial status, prominence of the sponsors and also provides briefing pertaining to the number of trials for the key drugs for treating Hormone Refractory Breast Cancer. This report is built using data and information sourced from proprietary databases, primary and secondary research and in-house analysis by GlobalData's team of industry experts.
To order this report:
Hormone Refractory Breast Cancer Global Clinical Trials Review, H1, 2014
Contact: Shauna
800.298.5699
Customerservice(at)marketresearch(dot)com
GlobalData
GlobalData is the premier source of actionable insight into the energy and healthcare industries. With the combined expertise of more than 1,000 researchers, market analysts and consultants, we provide high-quality, accurate and transparent industry insight that helps our clients to achieve growth and increase business value.
About MarketResearch.com
MarketResearch.com is the leading provider of global market intelligence products and services. With research reports from more than 720 top consulting and advisory firms, MarketResearch.com offers instant online access to the world's most extensive database of expert insights on global industries, companies, products, and trends. Moreover, MarketResearch.com's Research Specialists have in-depth knowledge of the publishers and the various types of reports in their respective industries and are ready to provide research assistance.
Follow us on Facebook http://www.facebook.com/marketresearchdotcom
Follow us on Twitter http://www.twitter.com/marketresearch_
Hormone Refractory Breast Cancer Global Clinical Trials Review, H1, 2014 - Table of Contents:
Introduction
Hormone Refractory Breast Cancer
Report Guidance
Clinical Trials by Region
Clinical Trials and Average Enrollment by Country
Top Countries Contributing to Clinical Trials in Asia-Pacific
Top Five Countries Contributing to Clinical Trials in Europe
Top Countries Contributing to Clinical Trials in North America
Top Countries Contributing to Clinical Trials in Middle East and Africa
Top Countries Contributing to Clinical Trials in Central and South America
Clinical Trials by G7 Countries: Proportion of Hormone Refractory Breast Cancer to Oncology Clinical Trials
Clinical Trials by Phase in G7 Countries
Clinical Trials in G7 Countries by Trial Status
Clinical Trials by E7 Countries: Proportion of Hormone Refractory Breast Cancer to Oncology Clinical Trials
Clinical Trials by Phase in E7 Countries
Clinical Trials by Phase
In Progress Trials by Phase
Clinical Trials by Trial Status
Unaccomplished Trials of Hormone Refractory Breast Cancer
Subjects Recruited Over a Period of Time
Clinical Trials by Sponsor Type
Prominent Sponsors
Top Companies Participating in Hormone Refractory Breast Cancer Therapeutics Clinical Trials
Prominent Drugs
Latest Clinical Trials News on Hormone Refractory Breast Cancer
Jan 16, 2012: Researchers Report Combination Of Lapatinib And Trastuzumab May Provide Better Preoperative Breast Cancer Treatment
Nov 13, 2011: HDAC Inhibitor May Overcome Resistance To Common Breast Cancer Drug
Dec 27, 2006: ADVENTRX Initiates CoFactor Phase II Clinical Trial In Refractory Breast Cancer
Clinical Trial Profiles
Clinical Trial Overview of Top Companies
F. Hoffmann-La Roche Ltd.
Clinical Trial Overview of F. Hoffmann-La Roche Ltd.
Neopharm Ltd.
Clinical Trial Overview of Neopharm Ltd.
NeoCorp GmbH
Clinical Trial Overview of NeoCorp GmbH
C. H. Boehringer Sohn AG & Co. KG
Clinical Trial Overview of C. H. Boehringer Sohn AG & Co. KG
Bluefish Pharmaceuticals AB
Clinical Trial Overview of Bluefish Pharmaceuticals AB
Bioenvision Limited
Clinical Trial Overview of Bioenvision Limited
AstraZeneca PLC
Clinical Trial Overview of AstraZeneca PLC
AmpliMed Corporation
Clinical Trial Overview of AmpliMed Corporation
Clinical Trial Overview of Top Institutes / Government
Southeastern Cancer Study Group
Clinical Trial Overview of Southeastern Cancer Study Group
Jules Bordet Institute
Clinical Trial Overview of Jules Bordet Institute
Japan Breast Cancer Research Network
Clinical Trial Overview of Japan Breast Cancer Research Network
Masonic Cancer Center
Clinical Trial Overview of Masonic Cancer Center
Alberta Health Services
Clinical Trial Overview of Alberta Health Services
Emory University
Clinical Trial Overview of Emory University
National Cancer Institute
Clinical Trial Overview of National Cancer Institute
Five Key Clinical Profiles