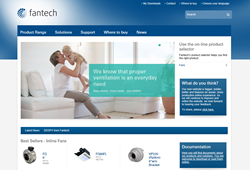 "Each section of our website is carefully designed to support architects, contractors, engineers, facility managers and home owners"
Lenexa, KS (PRWEB) March 26, 2014
Fantech, North America's leading provider of ventilation and indoor air quality solutions, serving the commercial and residential markets, today announced the launch of a significantly expanded and improved website, accessible at http://www.fantech.net.
After nearly 12 months of gathering customer comments and observing site usage, it was decided to reconfigure the Fantech's Website.
"Our website serves as a valuable marketing tool to put our products and solutions into the North American marketplace. Each section of our website is carefully designed to support architects, contractors, engineers, facility managers and home owners," said Rick Caldwell, Fantech's Director of Marketing - US.
"Graphically, the latest version is very different from the previous site format. We felt we could utilize the fantech.net domain more efficiently and create a consistent recognition of it throughout the site. The web structure has been simplified so customers receive faster attention to their requests. Streamlined access to products, service, and sales information, as well as, improved search capabilities," Caldwell added.
Phil Rivas, Fantech's Director of Sales - US, said, "Our goal has always been to provide our customers the most convenient, up-to-date product information possible, and our team has been very creative and extremely diligent in designing our website to meet that goal. We will continue to expand and refine our website so that our customers can more easily find solutions and communicate with us on-line."
"We are excited about the website and the role it plays in Fantech's overall marketing strategy. We are delighted to be able to offer our customers new and useful tools. We look forward to their feedback," Caldwell commented.
About Fantech
Since its founding in 1987, Fantech has focused on becoming a leader in the air movement/ventilation industry.
Fantech's two North American manufacturing plants include a 155,000 sq. ft. facility in Lenexa, Kansas as well as a 130,000 sq. ft. manufacturing plant located in Bouctouche, New Brunswick, Canada.
About Systemair
Systemair is a leading ventilation company with operations in 44 countries in Europe, North- and South America, the Middle East, Asia and South Africa. The Company had sales of 625 million USD in financial 2011/12 and currently employs about 3,400 people. Systemair has reported an operating profit every year since 1974, when the Company was founded. During the past 15 years, the Company's growth rate has averaged about 15 percent.
Systemair has well-established operations in growth markets. The Group's products are marketed under the Systemair, Frico, VEAB and Fantech brands. Systemair shares have been quoted on the Mid Cap List of the OMX Nordic Exchange in Stockholm since October 2007. The Group comprises about 60 companies.