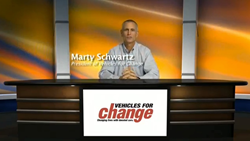 "the effect these cars have on peoples lives is enormous, these individuals stories are so touching and deserve to be shared".
Washington, DC (PRWEB) April 09, 2014
This year marks the 15th anniversary of the non-profit organization Vehicles for Change. To mark the event, the charitable organization which awards donated automobiles to families in need, collaborated with the Washington D.C. video production company TalkingTree Creative to highlight some of the most heart-warming stories one could find in the Baltimore/Washington D.C. area.
In order to share the story, one must know the story. First, TalkingTree Creative's president Craig Weisbaum conducted several interviews of the recipients of the vehicles. Weisbaum noted the impact he witnessed first hand, "the effect these cars have on people's lives is enormous, these individuals' stories are so touching and deserve to be shared." He elaborated, "Some of the most basic activities in our society revolve around the ease of transpiration, something as basic as picking up groceries becomes a much bigger task when you can't just hop in your car and drive." The raw footage was then edited and arranged to create a potent and moving message celebrating the empowerment Vehicles for Change delivers to the community. Vehicles for Change is now entering its 15th year serving low-income families in the Maryland, Virginia, and Washington D.C. area. Since 1999, Vehicles for Change has donated approximately 5,000 vehicles helping to provide transportation to 15,750 people. Weisbaum said the pairing between the two organizations was an "easy decision and a great way to assist in growing Vehicles for Change's presence in the area."
About TalkingTree Creative:
Talking Tree Creative is a video and event production company that creates memorable experiences and lasting impressions on screen, on stage, and online. Headquartered in Washington D.C., TalkingTree Creative has serviced clients in both the government and private sectors, becoming a leader in the event production and video production field, infusing its work with elements of creativity, entertainment, and messaging. For more information about TalkingTree Creative, please visit http://www.talkingtreecreative.com.