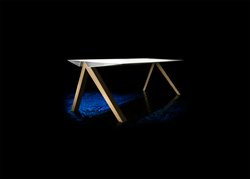 (PRWEB UK) 27 March 2014
At first glance, the TANGLE_ONE reveals an airy design. The thin surface with its sleek, sharp lines evokes an association with a birds wing. The legs are made of solid oak and give the table a stable base. This stable base holds, as it were, the airy, asymmetric sheet and keeps it in balance. The contrast between the 2 materials, antique oak and modern solid surface HI-MACS®, emphasizes the 2 different functions of the piece. The solid oak of the legs forms the supporting part, the base, and the intriguing HI-MACS® forms the surface area, resulting in an attractive, striking and functional design.
The TANGLE_ONE is a meeting space, a work space, a space for having drinks or food, it has a multitude of functions.
The table is custom-made by IC Woerden. The sheet is constructed of load-bearing wooden parts which are coated with HI-MACS®. The ends of the sheet consist of only 6 mm of HI-MACS®. This gives the table its delicate appearance. The legs are invisibly attached to the sheet, making it appear that the table-top simply rests on the legs.
The table is sold by IC Woerden and can be delivered throughout Europe.
The table goes on a journey
TANGLE_ONE is also going on a journey. As in many journeys, some destinations are already familiar and others will be decided whilst en route. On this trip, Alex Groot Jebbink is showing us the kind of journey that he has made - and is still making – in his life and his work.
The journey begins in January 2014 at the Interieur Collectief Woerden workshop, where the table was produced, and ends in December 2014 in the theater. Each destination demonstrates in its own way that TANGLE_ONE is suitable for use everywhere. You can follow this unique trip on http://www.a-LEX.nl.
Design: Alex Groot jebbink, The Netherlands
Fabrication: IC Woerden, The Netherlands
Material: HI-MACS® Alpine White 6 mm, Oak wood
Photographer: © Sunny Gardeur Fotografie.