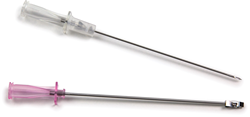 BETHLEHEM, Pa. (PRWEB) March 28, 2014
B. Braun's OEM Division will attend the 2014 BIOMEDevice Boston show, March 26-27, at the Boston Convention & Exhibition Center and will showcase its contract manufacturing services and medical device components.
B. Braun's OEM Division (Booth #606) will exhibit products and components from several categories: fluid administration and fluid management products, valves, admixture devices, interventional accessories, catheters and custom kits.
B. Braun will also feature its Safecan™ Safety Introducer Needle in a new 1.5-inch length. It expands the company's Safecan portfolio to meet the growing market demand for safety introducer needles.
B. Braun's OEM Division can provide standard products as well as custom products and sterile packaged devices and procedure kits for the medical device, pharmaceutical and biotech markets.
The BIOMEDevice Forum brings together world-class medical device designers, engineers, researchers and manufacturers to share best practices for planning and executing innovation in medical device design. This is New England's only conference program to focus solely on the design and development of a medical device through a carefully structured series of interactive case studies, technology sessions, panel debates and keynote presentations.
For more information, contact B. Braun's OEM Division toll free at 866-8-BBRAUN or visit http://www.bbraunoem.com.
About B. Braun's OEM Division
B. Braun's OEM Division (http://www.bbraunoem.com) delivers complete contract manufacturing capabilities focusing on fluid administration and admixture products, kits, valves, catheters and interventional accessories. OEM takes customers' designs from the earliest stages through design prototyping, assembly, packaging and sterilization. The OEM Division of B. Braun Medical Inc. is based in Bethlehem, PA.
About B. Braun
B. Braun Medical Inc. (B.Braun), a leader in infusion therapy and pain management, develops, manufactures, and markets innovative medical products and services to the healthcare industry. The Company is committed to eliminating preventable treatment errors and enhancing patient, clinician and environmental safety. Guided by its "Sharing Expertise®" philosophy, B.Braun continuously exchanges knowledge with customers, partners and clinicians to address the critical issues of improving care and lowering costs.
The B.Braun Group of Companies in the U.S. includes B.Braun, B. Braun Interventional Systems, Aesculap® and CAPS®. B.Braun's U.S. headquarters is located in Bethlehem, Pennsylvania. The B.Braun Group of Companies employs more than 46,000 employees in more than 50 countries throughout the world. To learn more about B.Braun visit http://www.BBraunUSA.com