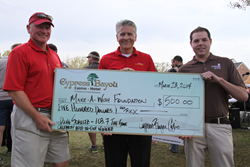 Broussard, LA (PRWEB) March 24, 2014
The Cypress Bayou Casino Hotel Inaugural Celebrity Hole-In-One Challenge teed off yesterday afternoon at Le Triomphe with representatives from local media outlets taking a swing for charity. Yesterday's event was part of the kickoff for the 23rd Chitimacha Louisiana Open presented by Nacher. While none of the participants made the 181 yard hole-in-one to win $2500 for the charity of his or her choice, Dave Schultz of Delta Media's 103.7 The Game hit the shot that landed closest to the hole and won $500 for the Make-A-Wish Foundation.
"We appreciate the participation of our media partners, who came out and had fun for a good cause for this inaugural event. It was a little windy and cool, but the crowd was great and our local celebrity participants were really good sports and tried their best for the charity of their choice," said Anthony Patrone, CEO and General Manager of Cypress Bayou Casino Hotel. "We look forward to making this an annual event to kick off tournament week and giving away even more money to charity as part of our commitment to the people of Acadiana."
Participants and the charities they played for were:
Allison Bourne-Vanneck (KATC) played for Heart of Hope
Tim Duhon (KADN) played for St. Jude's
Denny Guilbeau (008) played for St. Jude's
Cherry Fisher May (The Independent) played for Lafayette Central Park Fund and David Thibodeaux STEM Academy
WINNER - Dave Schultz (103.7 The Game) played for Make-A-Wish Foundation
George Faust (KLFY) played for LOPA
About Cypress Bayou Casino Hotel
Cypress Bayou Casino Hotel is located in Charenton, Louisiana off of US Highway 90 and features over 1300 slots and more than 30 tables including Blackjack, Mini-Baccarat, Mississippi Stud, and 3-Card Poker just to name few. Phone 1-800-234-4386 for more information, or visit the website at http://www.cypressbayou.com.