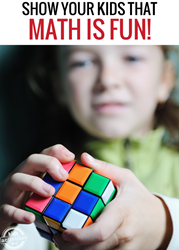 Show the kids that learning math is fun at the kitchen table today.
Dallas, Texas (PRWEB) March 25, 2014
Math doesn't have to be boring. Fun math ideas and the best educational apps for kids have been released on Kids Activities Blog. Get ready for great tips from seasoned Moms this week.
Show the kids that learning math is fun. 10 ways to teach kids math the fun way have been published by seasoned Moms.
Among the many ideas are talking about and eating fractions for lunch. Use lunch time to cut up sandwiches and fruit to teach fractions. Kids love to lean with visuals that they can eat.
Another great way to teach spacial awareness is by using pipe cleaners and straws to build objects. Build cubes and pyramids at the kitchen table.
Cutting ribbons and talking about measuring makes learning fun. Let the kids have a blast measuring body parts with ribbons today.
Apps can make great educational tools. Seasoned Moms are sharing their favorite kid tested and Mom approved apps for kids. The app store with its many selections can be overwhelming for anyone.
Instead of trial and error purchases, Moms have compiled their best educational apps. The apps include a list of the best nature apps, book apps, and science apps.
Among the favorites are also puzzle and animal apps that sneak in plenty of education while the kids are having a blast.
Other great tips include how to child proof the iPad. Get inspired to get the kids learning this season.
For detailed instructions and to get additional helpful tips, check out Kids Activities Blog this week. Check out the latest math and app tips this week.
About Kids Activities Blog
Kids Activities Blog is a website created by two moms (who collectively have 9 children), Rachel Miller and Holly Homer from June Cleaver Nirvana. It is their daily goal to inspire parents and teachers to play with kids. This interactive website publishes simple things to do with kids twice a day. Kids Activities Blog is a great tool for moms and teachers to find kid-friendly activities that create memories and sneak learning into the fun.