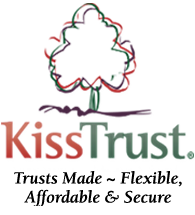 Fee based advisors, can direct the trust's investments across a wide variety of investment choices.
Bel Air, MD (PRWEB) March 25, 2014
Eastern Point Trust Company, the leader in online trust creation and administration, announces Kiss Trust's support for use by fee based financial advisors to address client's trust needs.
Kiss Trust now offers a comprehensive set of trust options including: Fully Customizable Trust, Special Needs Trust, Restricted Trust, Memorial Trust, Supplement Needs Trust, HESM Trust, Education Savings Trust, Child actor "Coogan" Trust and more. Kiss Trust now provides for an end to end trust solution for adults and children through financial advisors.
"Across the country, Kiss Trust is used by a growing number of financial advisors who are utilizing our "Advisor Assisted Trust" feature says Floyd Simeon, Chairman. "We have experienced wide demand for Kiss Trust by fee based Financial Advisors across the U.S. in 2014."
As the largest provider of online savings trusts, Kiss Trust provides the advantage of both expert and experienced trust administration along with affordable fees.
Simeon finished by saying, "Kiss Trust offers an extensive suite of trust products with a setup fee of only $49 per trust and trustee fees starting at 50 basis points or less. Kiss Trust extends the availability of trusts to everyone - even those with very small trusts."
Fee based advisors, can direct the trust's investments across a wide variety of investment choices, including over 5,000 (load waived and no load) mutual funds, 1,000+ ETFs, FDIC insured Money Market fund and brokerage accounts.
Kiss Trust is available in all 50 states as a quick, easy and cost effective trust solution. In 2012, 2013 and 2014 Americans created more online trusts through Kiss Trust than any other source.
About Kiss Trust
Kiss Trust is a service of Eastern Point Trust Company and is the nation's exclusive provider of online savings trust document services and trust administration services. Eastern Point Trust Company was founded and is staffed by top talents in law, trusts and technology to make the benefits and protections of trusts accessible and affordable to everyone. Eastern Point Trust Company is not a law firm. Eastern Point Trust Company is a non-depository trust company with multiple regional offices. Eastern Point Trust Company provides fiduciary and trust administration services for clients located in all 50 U.S. states, the U.S. Territories, across North America, South America, the Caribbean, Europe and Asia.