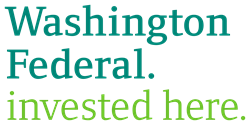 Seattle, WA (PRWEB) March 24, 2014
The Board of Directors of Washington Federal, Inc. (NASDAQ-WAFD), today announced a quarterly cash dividend of 10 cents per share. The dividend will be payable on April 18, 2014 to common stockholders of record on April 4, 2014. This will be Washington Federal's 125th consecutive quarterly cash dividend.
Washington Federal, Inc. is the parent company of Washington Federal, a national bank that operates 231 offices in Washington, Oregon, Idaho, Utah, Nevada, Arizona, Texas and New Mexico. Established in 1917, the Company provides consumer and commercial deposit accounts, insurance products, and financing for small to middle market businesses, commercial real estate and residential real estate, including consumer mortgages and home equity lines of credit. As of December 31, 2013, the Company reported $14.4 billion in assets, $10.4 billion in deposits and $2.0 billion in stockholders' equity.
# # #