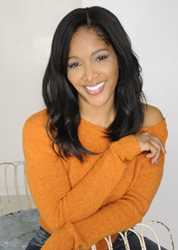 Chicago (PRWEB) March 24, 2014
Actor Noree Victoria, known for portraying the sassy and savvy Simone on TV One's "The Rickey Smiley Show," will be showing a more serious side of herself during a guest appearance on ABC's hit drama series "Castle," airing tonight March 24th at 10/9c.
Tonight's appearance on "Castle" is another professional milestone for Noree. It will also be a family reunion as Noree shares the screen with her sister, Penny Jerald for the first time. Jerald plays the role of Captain Victoria Gates on "Castle."
"I've admired and looked up to my sister, Penny, since I was a young girl," Noree says. "To have a guest role on one of ABC's top shows feels amazing, but having this experience with my sister makes this even more special," says the actor.
"Castle," now in its sixth season on ABC, is Monday night's most-watched TV series in its time slot, with close to 12 million viewers, according to TV data provider "TV by the Numbers."
Noree is also reprising her main character role as Simone, on TV One's hit comedy.
"The Rickey Smiley Show." This will be the Baltimore native's third season on the show. "The Rickey Smiley Show" kicks off its third season Friday, April 4, 2014. Check your local listings for times.