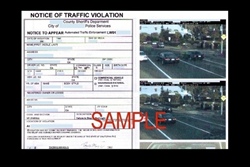 If the red light camera law is repealed in light of the study's results, traffic citations in Tampa and around the state would decrease significantly
Clearwater, Florida (PRWEB) March 28, 2014
Carlson Meissner Hart & Hayslett's Paul A. Meissner, Jr., says the results of a recent study on the effectiveness of Florida's controversial red light cameras may drive a change in traffic laws.
Two lawmakers in Florida are proposing a repeal of the state's red light camera law. The 2010 law, known as the Mark Wandall Traffic Safety Act, legalized the use of red light cameras at intersections to assist with traffic enforcement in the state. More than 70 cities and five counties, including Tampa, have installed red light cameras at more than 900 intersections.
The cameras work as follows: sensors in the road at each intersection prompt the camera whenever a driver runs a red light or turns right at the red light without first coming to a complete stop. The camera videotapes the car as it passes through the intersection. Employees of the camera company review the videotape to confirm the violation then send the video to law enforcement officers, who determine whether to issue a ticket to the driver. The fine for each violation is $158.
Tickets issued at red light camera intersections generated a record $119M in revenue last year, according to a Feb. 13 presentation by the state legislature's Office of Program Policy Analysis and Government Accountability (OPPAGA) that summarized the impact of the cameras on traffic violations and crashes. http://www.oppaga.state.fl.us/monitordocs/Presentations/P14-12.pdf. The OPPAGA report indicates that while fatalities at the intersections decreased by 49 percent, car crashes at the intersections increased by 12 percent. Opponents of the law are using these statistics to support a repeal of the law.
"If the red light camera law is repealed in light of the study's results, traffic citations in Tampa and around the state would decrease significantly," said Attorney Paul A. Meissner, Jr. of Carlson Meissner Hart & Hayslett. "Until then, there are a number of steps drivers can take to dispute red light camera violations." Meissner's recommendations for challenging red light camera violations include:

Determine whether the light was yellow long enough, per the state's minimum requirement for yellow lights
If you were not the one driving the vehicle, argue that you should not be cited
Dispute the proper functioning of the speed sensor at the intersection
Attorney Paul A. Meissner, Jr. helps drivers cited for violating Florida's traffic laws evaluate their options and develop an effective defense strategy. He has more than four decades of experience successfully challenging traffic violation citations and negotiating with prosecutors.
For additional information on Florida's red light camera laws, consult the 2013 Florida Statutes: http://www.leg.state.fl.us/Statutes/index.cfm?App_mode=Display_Statute&Search_String=&URL=0300-0399/0316/Sections/0316.0083.html
This information is provided for educational purposes only and does not constitute legal advice.
About Carlson, Meissner, Hart & Hayslett , P.A.
The law firm of Carlson, Meissner, Hart & Hayslett P.A. was founded in 1971 by attorneys Ed Carlson and Paul Meissner. For more than four decades, they have been committed to protecting the injured and defending the accused. Their attorneys have established a solid reputation of case success throughout Florida, providing strong legal representation, easy accessibility and a high level of dependability. A client-centered approach ensures that clients know what is happening as their case progresses, and understand their options every step of the way. With a focus on personal injury, they help victims of auto accidents, slip and falls and wrongful death accidents. The firm is well-known for their innovative criminal and DUI defense work, defending both local and high-profile clients. Attorney and Partner Kevin Hayslett is widely recognized as The Attorney to the Stars, providing strong legal representation for notable celebrities and dignitaries throughout Florida. The firm also handles social security disability, workers compensation, divorce, family law and immigration cases. They offer free initial consultations and have five convenient Tampa Bay Area locations. Attorneys are available 24/7 for emergencies. Count on the legal team of Carlson, Meissner, Hart & Hayslett, P.A. to be there, fighting for you, protecting your rights. For more information or to schedule a consultation, call 877-728-9653 or visit their website http://www.carlsonmeissner.com.