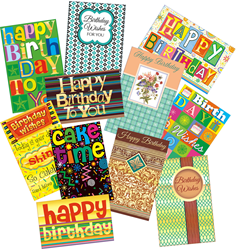 "Excellent deal and an incredible bargain! Love, love,love our shipment! It's so nice saying I offer a Made In America product."
Chicago, Illinois USA (PRWEB) April 22, 2014
Stockwell Greetings has been providing quality wholesale greeting cards to the independent retailer since 2004. In addition to store setups for complete greeting card departments, Stockwell Greetings offers packaged assortments for quick and easy ordering. See all the designs online at http://www.stockwellgreetings.com.
Greeting cards are a $7 billion industry in the United States, with Americans purchasing 6.5 billion cards each year. Sending greeting cards is a widely accepted custom, and still the most sincere form of social expression. The average household purchases 30 individual cards per year. Stockwell Greetings products provide customers with appealing designs and touching sentiments to share with their friends and loved ones. After all, the people we care about deserve a well-crafted paper card.
Known for its cutting-edge art work, Stockwell Greetings in Chicago designs, manufactures, and distributes wholesale greeting cards for all occasions and holidays. The new greeting card packages offered will give increased profits to the retailer as well as the quality and variety requested by the consumer. In addition to the company's individualized customer service, Stockwell Greetings enhances and updates its e-commerce website daily.
Existing Stockwell customers who are pleased with the product and value they receive from the company has said: "My cards have arrived and I am so pleased with the quality of the cards and the quick response from Stockwell," said Lorraine at The Lewinsville. "I will place another order soon." "The cards sell so quickly that we need to order again almost as soon as a shipment arrives." Karl, co-owner of Dollar Oasis.
**********
About Stockwell Greetings: Stockwell Greetings is an American company that focuses 100% of its resources on the greeting cards it creates. The company is headquartered in Chicago, Illinois conveniently located 10 minutes west of Chicago's financial district, and 20 minutes from both Chicago airports. Stockwell Greetings is a global wholesale provider to the retail marketplace.
***** Stockwell Greetings can also custom design and print greeting cards. ******
For More Information or to Place an Order, Please Contact:
Howard Goldsmith, Director of Business Development
Stockwell Greetings
877 906-2211
877 906-2214 FAX
howard(at)stockwellgreetings(dot)com
http://www.stockwellgreetings.com