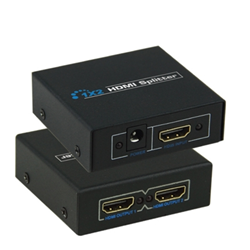 (PRWEB) March 25, 2014
Recently, Hiconn Electronics, a famous electronics accessory factory based in China, has added a new range of 1x2 HDMI 3D Splitters to its product category. In addition, the company has launched a promotion of these practical splitters: all of them are now offered at discounted prices, up to 26% off.
The new 1x2 HDMI 3D Splitters are specially designed for the coming April, and they are available in several specifications. The top designs from Hiconn Electronics have done a lot of market research before the announcement of these accessories. The company wants to make online shopping more economical for those who are in need of high end products.
Some detailed information about the company's brand new 1x2 HDMI 3D Splitters is as follows:

Support either one or both outputs at the same time
Support deep color 30bit, 36bit and XvYCc
Support CEC
Support HDMI signal retiming, no loss of quality
LED Indicate
Include AC100-240V universal power adapter
Operating Temperature Range: -15 ℃ to +55℃
Indeed, Hiconn Electronics is one of the industry pioneers when it comes to useful and cheap electronics accessories. It insists on offering affordable, high quality items that are carefully made with secure raw materials. It is making every effort to ensure that all needs of its customers are catered to. Thus, the company has won many positive reviews in the global market.
About Hiconn Electronics
Hiconn Electronics (Shenzhen Hiconn Electronics Co. Ltd.) is devoted to designing and manufacturing a wide range of connection cables and customized cable assemblies, offering many HDMI cables, VGA cables, SATA cables, USB cables, 1394 cables, DVI cables, SCSI (Small Computer System Interface) and more. For more information, please visit http://www.hiconn.net/.
Contact Person: James Yin (Sales Director)
Company Name: Shenzhen Hiconn Electronics Co., Ltd.
Address: Shenghua Building., Xixiang Road., Baoan District, Shenzhen, Guangdong Province, China
Zip Code: 518102
Tel: +86-755-8109 8345
Fax:+86-755-2779 3497