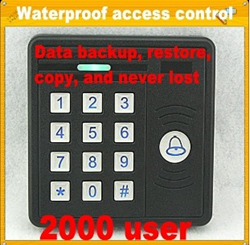 (PRWEB) March 25, 2014
Recently, SWAccessControl, a popular access control system manufacturer and wholesaler, has unveiled its new keypad access controller, RFID access controller. According to the senior engineer of the company, the new product uses the latest RFID (Radio-frequency identification) technology to control access at events, which can deliver a variety of benefits to users.
The new RFID access controller can satisfy the requirements of 2000 users; it has a waterproof rate of IP43. Now, the company allows its customers to buy one piece as a test order, i.e. The MOQ (minimum order quantity) is 1 piece. The company has a wide range of access controllers, passes and ID cards that can be RFID-enabled to work with any RFID system.
The following are the details of the new RFID access controller:
1. A squareshell, elegant
2. Memory, and can keep 2000 cards and 2010 the user's password
3. Has three ways to open the door. Cards, passwords, card with password
4. No card, you can set a password to open the door
5. Has security protection mode
7. With a doorbell button
8. To restore the factory settings, only to return to the factory programming password, memory does not lose all the information
9. Data can be backed up, copy, restore, and never lost
10. Size: 118mm*118mm*23mm
11.Weight: 0.24KG
"RFID is the wireless non-contact use of radio-frequency electromagnetic fields to transfer data; it can automatically identify and track tags attached to objects. RFID access control systems have been very popular around the world. Our RFID products have been used alongside leading technology systems at a lot of festivals and events worldwide," the engineer introduces.
About SWAccessControl.com
SWAccessControl.com is a leading access control system manufacturer and supplier from Shenzhen, China. The company aims to provide the best quality products at reasonable prices for clients around the world. Its products include fingerprint access control systems, door bolt locks, electronic locks, sliding bolt locks, electric drop bolt locks, access control power supplies and more. For more details, please visit http://www.swaccesscontrol.com/?content/product/246/index.html.