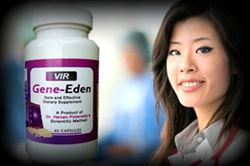 Most men don't know about the link between HSV-2 and prostate cancer. We recommend speaking to the doctor about Gene-Eden-VIR, since it was proven to reduce HSV symptoms in a post-marketing clinical study that followed FDA guidelines. – Mike Evans, polyDN
Rochester, NY (PRWEB) March 26, 2014
polyDNA's latest survey found that most male respondents did not know that genital herpes (HSV-2) can cause prostate cancer. A study explained that "Prostate cancer is the second most frequently diagnosed type of cancer and the sixth leading cause of cancer mortality among males worldwide." (See Biomedical Reports, from March 19, 2013) (1). Authors of the study linked HSV with cancer. They wrote that "herpes virus plays an important role in the pathogenesis (origin and development) of cancer via the inhibition of cell apoptosis (cell death) and stimulation of DNA synthesis, which may ultimately lead to cancer (1)." polyDNA recommends Gene-Eden-VIR to those infected with the genital herpes virus. This natural antiviral was proven to reduce symptoms associated with genital herpes in a post-marketing clinical study that followed FDA guidelines.
Interestingly, the study found that HSV-2 infection "is a potential risk factor for carcinogenesis. Several studies indicated that these infectious agents may elicit an immune response, creating a cytokine tissue environment that leads to chronic inflammation, DNA damage, cell proliferation, angiogenesis and ultimately prostate cancer (1)." Another study concluded that "components of viral and other infectious agents may shift the balance towards altered homeostasis in cells that have already deviated from normal gene expression and may thus play a role in malignant (cancer) transformation (1)." In other words, genital herpes may lead to prostate cancer by altering cell behavior.
How can an individual infected with HSV-2 treat their symptoms?
"Two types of antiviral treatments against HSV are available: topical and oral. The treatments include penciclovir, acyclovir, famciclovir, and valaciclovir. However, their effectiveness is limited. For instance, a meta-analysis of five placebo-controlled and two dose comparison studies evaluated the effect of aciclovir, famciclovir or valaciclovir on symptoms. The meta-analysis showed that oral antiviral therapy decreases the duration and the associated pain of an outbreak by merely one day." (See Pharmacology & Pharmacy, from September 2013) (2). There are also natural HSV remedies. Gene-Eden-VIR is a natural antiviral proven to reduce genital herpes symptoms in a post-marketing clinical study that followed FDA guidelines.
"Most men don't know about the link between HSV-2 and prostate cancer. We recommend speaking to the doctor about Gene-Eden-VIR, since it was proven to reduce HSV symptoms in a post-marketing clinical study that followed FDA guidelines." – Mike Evans, polyDNA
In a post marketing clinical study published on August 12, 2013 in the medical journal Pharmacology & Pharmacy in a special edition on Advances in Antiviral Drugs, researchers showed that Gene-Eden-VIR is safe and effective (2). Additionally, up to 70% of those studied reported a decrease in viral symptoms, and users experienced an increase in overall health (2).
Each ingredient of Gene-Eden-VIR was chosen through a scientific approach. Scientists scanned thousands of scientific and medical papers published in various medical and scientific journals around the world to identify the safest, most effective natural ingredients that target the latent herpes virus. (2)
To learn more about Gene-Eden-VIR, visit: http://gene-eden-kill-virus.com/Herpes-Remedy.php. All orders of Gene-Eden-VIR are completely confidential, and no information is shared or sold to any third party. Privacy is assured.
Reference:
(1) Herpes simplex virus type 2 or human herpesvirus 8 infection and prostate cancer risk: A meta‑analysis. Published on March 19, 2013.
http://www.spandidos-publications.com/br/1/3/433
(2) Gene-Eden-VIR Is Antiviral: Results of a Post Marketing Clinical Study. Published on August 12, 2013.
http://gene-eden-kill-virus.com/PP_Gene-Eden-VIR-is-Antiviral.pdf
polyDNA is a biotechnology company that develops dietary supplements using the unique scientific method developed by Dr. Hanan Polansky, which is based on Computer Intuition.
In addition to his unique scientific method, Dr. Polansky published the highly acclaimed scientific discovery, called Microcompetition with Foreign DNA. The discovery explains how foreign DNA fragments, and specifically, DNA of latent viruses, cause most major diseases.
polyDNA developed Gene-Eden-VIR , an antiviral natural remedy that helps the immune system kill latent viruses.