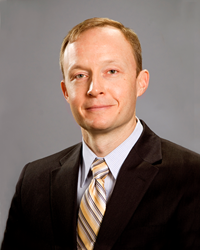 Greenville, South Carolina (PRWEB) March 25, 2014
Recognized as one of the nation's top public accounting and consulting firms, Cherry Bekaert LLP ("the Firm") is delighted to announce the addition of Thomas John ("T.J.") Way as a Director in the Firm's Tax practice.
An expert in tax planning and consulting services, T.J. will serve entrepreneurial clients in the real estate, construction and professional services industries. From Cherry Bekaert's Greenville, South Carolina, office, he will offer guidance on various business concerns such as tax and accounting, business valuation and exit strategy.
"T.J. has a penchant for creating reliable financial projections and breaking down the complexities of tax calculations for clients," said Mark H. Cooter, Managing Partner of the Firm's Greenville practice. "With his previous successes and ability to build strong client relationships, T.J. provides us with yet another great opportunity to enhance the Firm's Tax practice and business valuation services."
Beginning his accounting career as an auditor at a Big Four firm, T.J. was later a business plan consultant for a park service and oversaw the real estate and construction departments for a publicly-traded restaurant group. Prior to joining Cherry Bekaert, he served as a partner at a Greenville-based accounting firm for eight years.
Receiving a Bachelor of Science in Accounting, T.J. is an alumnus of Clemson University. He later earned a Master of Business Administration at the University of Georgia. Maintaining professional ties, T.J. is involved with the American Institute of Certified Public Accountants (AICPA) and South Carolina Association of Certified Public Accountants (SCACPA). In the community, he is a board member of A Child's Haven as well as a finance committee member and foundation committee member of First Baptist Church of Greenville.
About Cherry Bekaert LLP
As a nationally recognized, growth-oriented firm, Cherry Bekaert has the resources to take your business as far as you want to go. The Firm's industry specialists already know your marketplace, so they can help you make the most of emerging opportunities while minimizing compliance headaches. With their down-to-earth style and wealth of practical advice, you will find Cherry Bekaert an indispensable part of your team.
Ranked among the largest accounting firms in the country, Cherry Bekaert specializes in offering solutions that impact their clients' ability to grow. For more than 65 years, global corporations, private businesses, government entities, nonprofits, emerging firms and successful individuals have relied on Cherry Bekaert to guide them forward as their growth advisor. | cbh.com