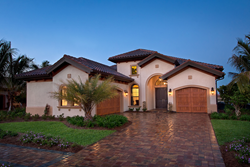 'Stock Development offers a residential design for everyone,' said Brian Stock, CEO of Stock Development. 'We also have inventory units available in flats, townhomes, casitas, coach homes, twin villas, single-family homes and estate homes.'
(PRWEB) March 25, 2014
Stock Development hosts its Tour of Homes event today across eight Southwest Florida communities with 70 beautifully furnished model homes on display.
The models are open Sunday March 30th from 12:00-5:00 p.m. For a complete list of models and community maps and directions, visit Stock's website at http://www.stockdevelopment.com.
Homebuyers can tour professionally decorated single-family and multi-family homes in styles as diverse as $200,000 flats to multi-million dollar estate homes. No other Southwest Florida developer has as many models open and the talents of more than a dozen interior designers are on display in Stock's furnished models.
"Stock Development offers a residential design for everyone," said Brian Stock, CEO of Stock Development. "We also have inventory units available in flats, townhomes, casitas, coach homes, twin villas, several series of single-family homes and custom-built estate homes. People who want to move in right away and enjoy the end of the winter season in Southwest Florida have incredible opportunites."
Stock's quality construction and attention to detail are unmatched. Its residences and lifestyle amenities have received more than 400 awards in the past 12 years, including an unprecedented 14 Community of the Year honors from the local building industry associations over the past seven years.
Stock Signature Homes has beautiful models and a selection of inventory homes available at Fiddler's Creek, Treviso Bay, Quail West, Twin Eagles and Park Shore.
Stock's furnished models are open in eight neighborhoods in Lely Resort, including 16 models in the Lakoya neighborhood. Numerous move-in ready homes are available.
One of the hottest selling neighborhoods in Naples is Lantana, the final neighborhood being built at Olde Cypress. Stock has six beautifully furnished models open at Lantana, including the newly opened Montessa II. In addition, several inventory homes are available.
In Lee County, Paseo has earned eight consecutive Community of the Year awards. Furnished models are available in five different home styles with prices beginning in the $200s.
Stock Development is located at 2647 Professional Circle in Naples. For more information, call (239) 592-7344.