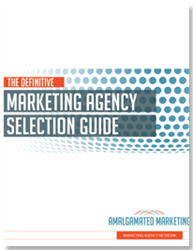 Naperville, IL (PRWEB) March 27, 2014
Amalgamated Marketing, a network of small, specialized marketing agencies, recently released a comprehensive and definitive guide to assist marketers in the marketing agency selection process.
'The Definitive Marketing Agency Selection Guide' is an invaluable resource and roadmap for marketers as they navigate one of their most important decisions, where a wrong decision can be both expensive and career jeopardizing.
Contents of the guide include: reasons for both hiring and firing an agency, detailed descriptions of the 11 types of marketing agencies, a 4-step agency selection process, and finally, additional resources for reference.
"We scanned the industry for useful content regarding marketing agency selection, and identified information gaps that this 'Definitive Guide' addresses," states Neil Brown, Chief Marketing Officer. "The rapidly changing marketing landscape required an updated perspective that we believe will prove useful."
To download a free copy of the guide, please visit: http://www.amalgamatedmarketing.com/marketing-agency-selection-guide.
About Amalgamated Marketing
Amalgamated Marketing is a network of small, specialized marketing agencies, that serves two purposes: first to support clients that require marketing project recommendations, cost estimates and marketing implementation. Second to bring new business to qualified marketing agencies. The Amalgamated Marketing network is different than other agency networks by allowing only small, independent agencies to become members, and by providing coordination services without cost to qualified clients. For more information visit http://www.AmalgamatedMarketing.com or call Neil Brown at 630-868-5061.