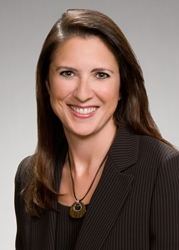 Howland is an "advocate [who] has boldly emerged onto the scene: recruiting many new advocates, completing her Advocacy responsibilities without hesitation and making a very positive first impression on JDRF staff and other volunteers."
Boise, ID (PRWEB) March 26, 2014
Holland & Hart LLP is pleased to announce that Labor and Employment partner Pamela Howland was recently recognized by the Juvenile Diabetes Research Foundation (JDRF) with two separate awards at its annual conference.
The first award Howland received was the Advocates Without Borders award, which recognizes a team of advocates working across chapter and/or state lines to achieve JRDF's advocacy goals. As the Advocacy Team Chair for the Utah-Idaho chapter of JDRF, Howland partnered with Inland Northwest chair Todd Casey to promote JDRF and, working with congressmen and senators, to help garner support and funding for the Special Diabetes Program in order to find a cure for diabetes.
The second award Howland received was the Rookie of the Year award, which honors a new leader who has joined the JDRF Grassroots Team within the past year. Howland was described by Melissa Smicker, National Manager of Grassroots Advocacy for JDRF, as an "advocate [that] has boldly emerged onto the scene: recruiting many new advocates, completing her Advocacy responsibilities without hesitation and making a very positive first impression on JDRF staff and other volunteers."
For the past two years, Howland has co-chaired the Boise JDRF Walk to Cure Diabetes.
With more than a decade's worth of trial experience in both state and federal courts, Howland handles a wide range of civil litigation matters, including employment defense, contract and tort disputes. As part of her employment defense practice, she counsels employers on how to apply recent legal developments in the employment arena to their businesses.
About Holland & Hart
Holland & Hart LLP delivers integrated legal solutions to regional, national and international clients of all sizes.
Since its inception in 1947, Holland & Hart's more than 470 lawyers have consistently been recognized by leading national and international peer and industry review organizations for innovation and dedication to the practice of law.
For more information, visit http://www.hollandhart.com.
About JDRF
JDRF is the leading global organization focused on type 1 diabetes (T1D) research. JDRF's goal is to progressively remove the impact of T1D from people's lives until we achieve a world without T1D. JDRF collaborates with a wide spectrum of partners and is the only organization with the scientific resources, regulatory influence and a working plan to bring life-changing therapies from the lab to the community. As the largest charitable supporter of T1D research, JDRF is currently sponsoring $530 million in charitable research in 17 countries.