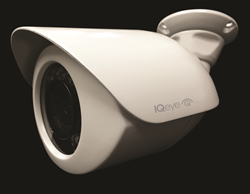 The new bullet cameras really round out our product offering nicely. They're versatile, high performance cameras, priced to be a competitive fit for a wide range of market applications. Rob Ledenko, EVP, IQinVision
San Juan Capistrano, California (PRWEB) March 25, 2014
IQinVision (http://www.iqeye.com), market leader in high-performance HD megapixel IP cameras, today announced the release of the IQeye R5 Series of bullet cameras.
The R5 Series bullet cameras are full-featured, multi-megapixel H.264 Main Profile indoor and outdoor cameras. With support for up to 3MP resolution, these versatile cameras provide multiple, individually-configured H.264 and simultaneous MJPEG streams.
Featuring on-camera storage and built-in IR, IQeye Bullet cameras are perfect for retail, commercial, city and transportation applications. Additional noteworthy camera features include 30 fps @ HD720p and HD1080p; 20 fps @ 3 MP; and IP66 outdoor enclosures.
Applications available for the new IQeye Bullet include IQfinder, IQmanager, IQevent, IQanalytics, and Direct-To-Storage. This camera line is backed by the IQinVision best-in-industry warranty of three years.
"The new bullet cameras really round out our product offering nicely," said Rob Ledenko, IQinVision EVP and VP of Sales and Marketing. "They are versatile, high performance cameras, and they're priced to be a competitive fit for a wide range of market applications."
The IQeye Bullet cameras will be on display at booth #25109 at ISC West in Las Vegas, 02-04 April, and they will be available to the market in May.
About IQinVision
IQinVision has been designing, manufacturing and marketing the IQeye line of HD megapixel IP cameras since 1998. A world leader in IP network camera products, IQinVision is renowned for image quality, stability and reliability in the harshest environments. ONVIF and PSIA compliant, IQeye cameras are integrated with all leading NVRs and are backed by the most comprehensive warranty program in the industry. The company's products are widely deployed in banking/finance, city surveillance, commercial/industrial, critical infrastructure, education, gaming, government/law enforcement, healthcare, retail and transportation applications. IQinVision is a privately-held corporation headquartered in San Juan Capistrano, California with a regional office in the Netherlands. For more information: http://www.iqeye.com.
For Media Queries:
Bruce J. Doneff
Public Relations
843.476.3022
bruce.doneff(at)iqeye(dot)com
For IQinVision:
Wendi Burke
Director of Marketing
949.369.8100
wendi.burke(at)iqeye(dot)com
###