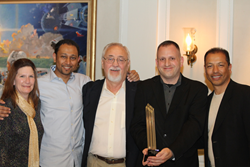 Glas Tint and the Weiss family embody all that is important to the growth of our industry. They run a successful business and treat their customers like family.
Houston, TX (PRWEB) April 07, 2014
Hüper Optik USA, a pioneer of the first Multilayered, true nano-ceramic window film, has awarded the National Synergy Award – Large Market to Glas-Tint of Park Ridge, NJ. Pictured are Terri Fair of SAGR Products, Harry Rahman of Hüper Optik USA, Hank Weiss of Glas-Tint, Andy Sabados of Cornerstone Energy Solutions and Faisal Nazir, CEO of Hüper Optik USA.
This prestigious National Award is given to Glas-Tint Film for their outstanding representation of Huper Optik films and their outstanding sales growth for 2013. Hank Weiss started his business in 1994 and is in the process of turning over his business to the next generation in Jason Weiss, his son.
Hank joined the Hüper Optik family in 2002 and has focused on the Energy Efficiency market place. Hank has continued to grow through partnering with groups like Hüper Optik USA and Cornerstone Energy Solutions and using the support provided by SAGR Products. Hanks shift from leading his company through strong growth has allowed him to step back and become the visionary for further growth for Glas Tint. Jason has grown up in the business and offers great experience in all aspects of the window film industry. As he steps into the leadership role of Glas Tint, he has plans to continue their growth and expansion.
"Glas Tint and the Weiss family embody all that is important to the growth of our industry. They run a successful business and treat their customers like family. This speaks to the family atmosphere of the Hüper Optik Authorized Network of Dealers. Willing to grow and share while focusing on the balance of outstanding service and our families." said Faisal Nazir. "We are proud to run a network of support and growth that attracts successful business owners to our network."
Huper Optik USA is a market leader in German engineered, multi-layers nano-ceramic and traditional solar control film technology, providing energy savings and security solutions for commercial, residential, automotive and marine industries through a strategic network of authorized dealers in the United States, Mexico, South America and Canada. The company is known for its innovations in ceramics, including its patented dual layer, nano-ceramics, neutral toned products, with low interior reflectivity. For more information or to become a dealer visit http://www.huperoptikusa.com or contact communications(at)huperoptikusa(dot)com