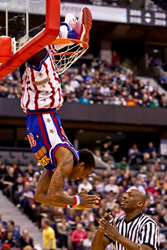 Denver, CO (PRWEB) March 26, 2014
Similar to their signature moves on the court, the storied Harlem Globetrotters continue to defy gravity at the box office. Many attribute the team's steady draw to their unique blend of theatre, comedy. acrobatics and athleticism.
Other reviewers write that fans just want to have fun and that the Harlem Globetrotters deliver, pure and simple. Either way, while the club first took the floor in 1927, it appears that after some 87 years, they can still hoop it up.
With a history of more than 20,000 exhibition games to over 120 million fans in 120 countries around the world, the Globetrotters continue to be one of the most popular teams ever to take (and take over) the court.
This year's "Fans Rule" tour opened at the I Wireless Center in Moline, Illinois on January 4, and still has 42 games in 36 cities on the schedule. The team, split into two touring squads, plays in Casper, Providence, Colorado Springs, Loveland, Broomfield, Denver, Boston, Augusta, Dodge City, Enid, Kingston, Lincoln and Montreal after playing Binghamton, New York tonight.
"Harlem Globetrotters tickets continue to stay at the top of sports ticket sales nationwide, said Marta Ault at online ticket marketplace BuyAnySeat.com.
"That's why we're proud to be able to offer fans the most complete and continuously refreshed selection of tickets online, with a worry-free guarantee to protect their purchase," added Ault.
"To access the full roster Harlem Globetrotters tickets we have available, fans can go to BuyAnySeat.com and search for Harlem Globetrotters – then select their tickets."
No other basketball squad can play the game like the Globetrotters can. Known for their wild and wacky on-court antics, they take the floor to their song "Sweet Georgia Brown" by Brother Bone. They're slamming and jamming, jumping and dunking and spinning basketballs on their fingertips.
They joke with the fans. They play with the kids. They tease and prank their opponents and playfully ridicule the refs. And, all the while, they put on a dazzling display of basketball skills, complete with gravity-defying moves, amazing trick shots, and a full roll of passing and shooting razzle dazzle.
Recently the team introduced the 4-point shot from a 35-foot arc and a penalty box for any `funny business' by a player. Plus, all of the penalties in a game are typically assessed against one of the Globetrotters due to their playful antics.
Just like last year's You Write the Rules tour, local fans can go online and vote on a new rule that the team will add to their upcoming game to make it even more fun and exciting. These rules could involve anything from playing with two basketballs at once to 4-point shots. The rule with the most pre-game votes is then used in the actual game.
The Globetrotters originated on the South Side of Chicago, Illinois in the 1920's where all of the original players grew up. At one point, the Globetrotters were one of the best teams in the country. However, with the rise of the National Basketball Association in the 1950s the Globetrotters found different avenues to success.
In 2012, the Globetrotters introduced their version of summer basketball camp called Summer Skills Clinics. Clinics are available for boys and girls (age 6–12) and are designed so that no experience is required. At clinics, kids get the opportunity to get coached by actual players. They learn fundamentals, do drills and practice tricks. Plus, they participate in important character-building meetings with messages delivered by the team. Their clinics have grown nationally every year and are located at 24 Hour Fitness centers across the country.
Former Globetrotters include Wilt "The Stilt" Chamberlain, Connie "The Hawk" Hawkins, Nat "Sweetwater" Clifton, Marques Haynes, Meadowlark Lemon, Jerome James, Reece "Goose" Tatum, Hubert "Geese" Ausbie and numerous others. (Source: wikipedia.org)
To shop for Harlem Globetrotters tickets visit BuyAnySeat.com.
About BuyAnySeat.com: An online ticket marketplace, BuyAnySeat.com connects sports, theater and other live entertainment fans to an extensive network of ticket sellers worldwide. The site's simplified listings and navigational tools enable shoppers to easily locate, compare and purchase inexpensive, discounted or lower-priced tickets to virtually all advertised sports and entertainment events around the globe.
The ticket marketplace, which is PCI-compliant and Norton Secured, also provides customers with a complete Worry-Free Guarantee on all ticket purchases. Based in Denver, Colorado, BuyAnySeat.com is a subsidiary of Denver Media Holdings. For more information, please visit http://buyanyseat.com.