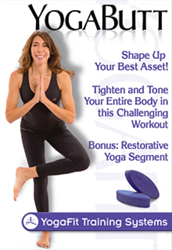 Los Angeles, New York (PRWEB) March 26, 2014
YogaFit® Training Systems Worldwide is proud to announce the YogaButt DVD, a hybrid fitness program that focuses on developing muscular strength and endurance throughout the body, focusing on the core stabilizing muscles (abs and back muscle groups), and additional muscle groups surrounding and assisting the midsection. New YogaButt workout featuring: the YogaFit® Three Mountain Format, Seven Principles of Alignment and the YogaFit® Essence.
Viewers will tighten and tone glutes, and re-do their rear view with YogaFit's® amazingly fun and effective lower-body workout. It is a high-energy, yoga based workout designed to make viewers sweat, tone and tighten those problem areas. Creator of YogaFit®, Beth Shaw, adds the infamous YogaCore® ball to traditional flowing yoga poses to deeply define inner/outer thighs, hips and glutes (as well as the rest of the body!). Adding the ball to many in-depth poses improves posture, revs exercise intensity and jump-starts energy levels.
All fitness levels are welcome to join Beth as she teaches real yoga for real people. Enhance personal practice with this intense lower body-inspired practice or share these unique moves with other students in classes. From the comfort of the yoga mat, improve muscles' performance and appearance.
Benefits include:

Weight loss
Greater self-esteem and confidence
Strong core
Back health
Defined legs and butt
Greater concentration and focus
The new DVD is exclusively distributed by YogaFit® and is available through the YogaFit® store. For further information, visit YogaFit.com or connect at Facebook.com/ YogaFitTrainingSystemsWorldwide or on Twitter @YogaFitTraining.
ABOUT YOGAFIT® TRAINING SYSTEMS WORLDWIDE
YogaFit® Training Systems Worldwide was established in 1994 and has since trained more than 250,000 yoga and fitness professionals worldwide. The leader in mind body fitness education, YogaFit® is the largest training school for yoga instructors in North America with further expansion ongoing internationally. YogaFit® is the American Council on Exercise's (ACE) premier and only yoga partner. Founder and President Beth Shaw is internationally recognized as the foremost authority on yoga and fitness and has been profiled in print publications and television programs including Oprah's O Magazine, CNN, The Wall Street Journal, The Huffington Post, The New York Times, USA Today, Entrepreneur, SELF and is currently a New Business Group Member of the New York Times. YogaFit® is committed to community service as well as supporting animals and humanitarian causes.
For more information on YogaFit®, please visit http://www.YogaFit.com.