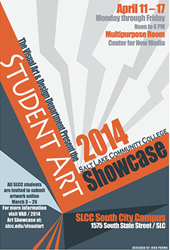 Salt Lake City, Utah (PRWEB) March 26, 2014
The fine art, photographs and illustrations of Salt Lake Community College student artists will be on display during the school's annual Student Art Showcase.
The show is open to the public April 11 to 17, 12 p.m.-6 p.m. each day in the east and west portions of the Multipurpose Room at South City Campus, 1575 South State Street, Salt Lake City.
The event will also feature students' works that use graphic design, web design, animation, mixed media and 3D designs. Submissions for the show are juried by members of the SLCC Visual Art and Design faculty and then judged by qualified members of the local art community.
For more information visit http://www.slcc.edu/visualart/art-showcase.aspx.
Salt Lake Community College is an accredited, student-focused, urban college meeting the diverse needs of the Salt Lake community. Home to more than 60,000 students each year, the College is Utah's leading provider of workforce development programs. SLCC is also the largest supplier of transfer students to Utah's four-year institutions and a perennial Top 10 college nationally for total associate degrees awarded. The College is the sole provider of applied technology courses in the Salt Lake area, with multiple locations, an eCampus, and nearly 1,000 continuing education sites located throughout the Salt Lake valley. Personal attention from an excellent faculty is paramount at the College, which maintains an average class size of 20.