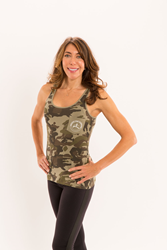 Los Angeles, California (PRWEB) March 27, 2014
On April 10, Beth Shaw, founder of YogaFit®, will be holding a 4-hour Meditation and Mindfulness training session at the Mind Body Fitness Conference in Morristown, NJ. Attendees will learn first-hand from leader of Mind Body Fitness education how to meditate and how to teach their students.
Meditation and Mindfulness (previously known as Transformational Meditation) was created out of Shaw's own personal experience and passion for meditation. This training delves into learning how to balance one's body by using a multi-layered approach to mantra and chakra meditations in order to stimulate the nervous system. The methods presented make meditation easy to understand, user-friendly, and customizable.
"I believe in the power of meditation and have a regular meditation practice that is an important part of my daily life. I would like to share the many benefits of meditation with my network of YogaFit® instructors," explains Shaw, "Mantra based meditation gives the mind the opportunity to focus and clear. This Transformational Meditation resets the nervous system and can be done anywhere."
Attendees will learn the most effective meditation approaches to integrate meditation into their daily life and to demystify meditation for your students as well. This training will teach practical mindfulness for daily happiness and contentment. Once again, YogaFit® and Shaw are leading the industry in making eastern philosophy a healthy part of our western lifestyle.
The YogaFit® Mind Body Fitness (MBF) Conference is open to instructors, teacher trainees, and yoga enthusiasts of any age. The conference features internationally renowned programs for training fitness professionals in the YogaFit® style. The conference is designed for students working towards a Yoga Alliance® registry, earning continuing education credits (CECs), or simply deepening their yoga practice.
MBF Conferences are considered the capstone of YogaFit®'s training program. Conferences begin with a fun opening session for everybody attending. The YogaFit® team leads the group in a song highlighting the principles of YogaFit® so that students new and old can bond and start the day on an energetic note. The attendees are then broken into groups and begin their classes and seminars. Along with YogaFit® training sessions on anatomy, safety, meditation, and therapy, the conference features classes for children and seniors.
We hope to see you all in Morristown, NJ on April 10. For inquiries, please contact pr(at)YogaFit(dot)com.
Feel free to visit the official YogaFit® site and register for the conference. https://webportal.orderwave.com/yogafit/default?a=viewConferenceDetails&i=35
About YogaFit®® Training Systems Worldwide
YogaFit® Training Systems Worldwide was established in 1994 and has since trained more than 250,000 yoga and fitness professionals worldwide. The leader in mind body fitness education, YogaFit® is the largest training school for yoga instructors in North America with further expansion ongoing internationally. YogaFit® is the American Council on Exercise's (ACE) premier and only yoga partner. Founder and President Beth Shaw is internationally recognized as the foremost authority on yoga and fitness and has been profiled in print publications and television programs including the Huffington Post, Wall Street Journal, Oprah's O Magazine, CNN, The New York Times, USA Today, Entrepreneur, SELF and is currently a New Business Group Member of the New York Times. YogaFit® is committed to community service as well as supporting animals and humanitarian causes.
For more information on YogaFit®, please visit http://www.YogaFit.com.