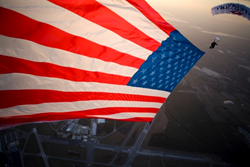 The Dayton Dragons are a great team, and the fans make the games so much fun.
Dayton, OH (PRWEB) April 02, 2014
The Dayton Dragons' opening day game against the West Michigan White Caps, is sure to be an unforgettable night. The game starts at 7pm, and prior to the game, Team Fastrax will be performing a patriotic skydive with their beautiful 1,100 sq. ft. American flag as well as their red, white, and blue streamers. The National Anthem will be performed by Alex Wunder of Kettering, the winner of the Dayton Daily News national anthem contest.
John Hart, owner of Start Skydiving, and Founder of Team Fastrax, said "We are honored to be performing our American Flag skydive on such an important day for the Dayton Dragons. Opening Day is always exciting, and we're glad to be a part of it. "
In regards to the game, John added, "The Dayton Dragons are a great team, and the fans make the games so much fun. It's a wonderful family atmosphere."
According to the Dayton Dragons website, in 2014 at Fifth Third Field, you can expect many new and exciting things at the home of the Dayton Dragons. The Dragons' mascots, Heater and Gem, and team characters, Roofman, Wink, and ATMO, all return for the 2014 season as the Dragons continue their focus on great professional baseball, affordable family fun, unsurpassed customer service, and community involvement. The Dragons entertainment department will usher in a whole new selection of skits, contests, and videos focusing on family entertainment. The "Green Team" has been rehearsing since January, spending multiple weekends at the ballpark preparing for opening night and the 2014 season.
Team Fastrax is sponsored by Selection.com, a leading provider of criminal background checks and pre-employment screening services. They are the most ambitious professional skydiving team in the world. The team has a roster of more than twenty-nine active members, with a culmination of more than 300,000 skydives. Team Fastrax has performed exhibition skydives all over the world for audiences large and small as a patriotic display or as a product promotion.
For more information and to purchase tickets, visit the Dayton Dragons official website.
For questions or for an interview, contact Gene Newsom with Team Fastrax at 513-422-5867.