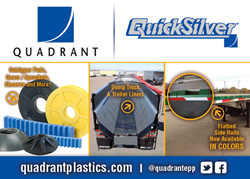 Quadrant's plastic and polymer specialty components for trucking are superior when it comes to high impact strength, fatigue life, and wear capabilities, and can be molded into complex shapes at a much lower cost than machining metal components
Reading, PA (PRWEB) March 27, 2014
Quadrant Engineering Plastic Products, the global leader of machinable plastics, is bringing the leading portfolio of dump body liners, cast components , and near net shapes to the Mid-America Trucking Show (MATS) on March 27-29, 2014. Quadrant specializes in metal-to-plastic conversions that improve material quality, reduce costs, and streamline manufacturing in the trucking industry.
Quadrant's plastic and polymer specialty components are superior when it comes to high impact strength, fatigue life, and wear capabilities, and can be molded into complex shapes at a much lower cost than machining metal components. Plastic cast components are lighter in weight, reducing fuel expenses while enhancing performance and overall product value. Featured specialty components include Nylatron® wear pads, Nylatron® GSM sheaves, gears and sprockets, Monocast® outrigger pads, track plates, and QuickSilver® side rails (now available in colors).
According to QuickSilver® National Sales Manager Tom West, "Our cast components and near net shapes fill the performance gap left by metals by delivering higher performance, weight reduction, and eliminating costly repairs. Our chain sprockets made from lightweight, self-lubricating Nylatron® GSM require less energy to operate, allowing more power to be used to drive the chain, which provides a cost-effective and durable solution."
Along with its five-star lineup of trucking products, the legendary QuickSilver® and Durapro dump body liners will also be on display. "QuickSilver® high performance dump truck liners are designed for rapid release and to clean-out and clean-up some of the toughest materials like hot asphalt, rocks, gravel, sludge and wet dirt – they really are made to haul it all. Combine that with the industry's best warranty and it's really a no-brainer," says Tom. Quadrant's lining materials are the industry's only lining product that carry a non-pro-rated lifetime warranty against cracking, breaking, and seam failure.
Get your "truck-on" at booth #20085 at MATS 2014. Application specialists and technical experts will be in attendance to answer questions about factory installs, on-site retrofits, and metal to plastic conversions.
High-Res Images & Expert Interviews Available
Media Contact:
Kim Imes, Marketing
Quadrant Engineering Plastic Products
kim.imes(at)qplas.com
610.320.6709
About Quadrant Engineering Plastic Products:
For over 70 years, Quadrant Engineering Plastic Products (EPP) has been proving there is simply no substitute for quality, innovation and distinction. Quadrant EPP is the global leader of high-performance engineering plastics that are used for machined parts in food processing and packaging, semiconductor manufacturing, aerospace, electronics, chemical processing, life sciences, power generation and diverse industrial equipment. Its superior products range from UHMW polyethylene, nylon and acetal to ultra-high performance polymers that resist temperatures to over 800°F (425°C).
With a rich history as a company who pioneered machinable plastics, Quadrant is backed by a global team of application development and technical service engineers who specialize in evaluating designs and machining parts. Products and services are available through a worldwide network of branch offices, technical support centers and authorized dealers. Learn more about Quadrant at http://www.quadrantplastics.com . Use the Industry or Product Finders to access specific information, specs and applications. Connect with Quadrant, "quadrantepp" on Facebook, YouTube, and Twitter.
Registered trademarks of the Quadrant group of companies: Acetron®, CleanStat®, Duraspin®, Duratron®, Erta®, Ertalyte®, Ertalene®, Ertalon®, Extreme Materials®, Fluorosint®, Ketron®, MC®, Monocast®, Nylatron®, Nylasteel®, Polypenco®, Proteus®, Sanalite®, Semitron®, Techtron®, TIVAR® and Vibratuf®.